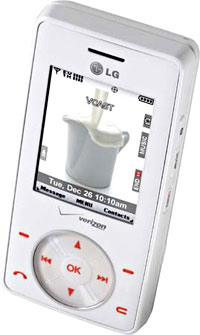 After the success of LG's Chocolate slider phone (aka the LG KG800), the company have released a new White Chocolate version.
The super-slick snowy white version offers the same feature set as the original, which means that users get a slidy-out phone with GSM 900/1800/1900 network coverage, backed by Bluetooth (with A2DP), Infrared and Wi-Fi connectivity.
There's also a 1.3 MP camera with 2X zoom and a sizeable 176×220 262K-colour LCD screen and the same funky heat sensitive touch control keys for controlling the main functions.
These keys glow red in a suitably high tech manner when active, and fade into the background colour when they're not being used.
The new white look is apparently designed to appeal to the laydees and it looks like LG are trying to sprinkle some of that iPod fairy dust on the thing.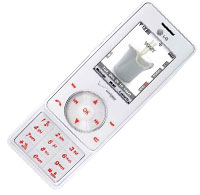 Music playback support comes in the shape of WMA and MP3 support with micro-SD memory expansion up to 2GB.
Despite the hefty 128MB of memory onboard, function fans may be a little unchuffed to discover there's no radio and speakerphone included – a curious omission if you ask us.
The phone also comes with a WAP 2.0 compliant browser, measures up at 95x48x15mm and weighs a pocket-untroubling 83 grams.
Battery life is listed as 3.5 hours talk / 8 days standby and is available on Amazon US for $375.
[From New Launches]