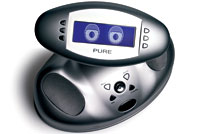 The latest digital radio listening figures have come out in the UK. Everyone involved in the DAB radio business as they've all gone up.
The digital reach is up 17% from the previous year and the number of hours listened to has gone up 15% from last year.
Something rather pretentiously called the "Digitally Enabled Universe," ie the number people who fall within the DAB radio reception, has stayed at 54% of the UK population.
The percentage of adults who own a DAB set at home remains at 15.3%.
DRDB chief executive, Ian Dickens, says: "This is great news and proves that digital radio continues to grow in popularity with listeners. Rajar's research bears out our own findings which show that people who buy a DAB digital radio enjoy the new stations it offers and value the added choice that comes with digital listening."
The BBC has five national DAB radio station, four of which have increased their listenership. The most popular commercial radio station is Emap's The Hits with 1.182 million listeners.