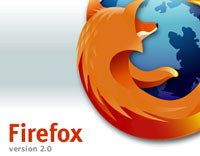 The final version of the Firefox 2.0 browser is expected to be released into the wild today.
Our browser of choice for some time now, the update to the open source browser includes onboard anti-phishing controls, built-in RSS and XML feed-viewing capabilities, and a new inline spell checker.
Firefox is developed by the nonprofit Mozilla Foundation, and a spokeswoman commented that the final version was substantially the same as the final beta, with the program scheduled for free download sometime this afternoon.
The release comes days after Microsoft launched their catch-up Internet Explorer 7 upgrade, which saw the program finally introduce tabbed browsing – something that Firefox users have been enjoying for years.
Firefox 2.0 also features a new "close" button on its tabs – with links opening in tabs by default – and a handy Session Restore feature restoring windows, tabs, text typed in forms, and in-progress downloads from the last user session, with the ability to restore previous sessions after a system crash.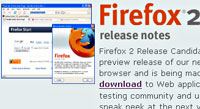 "If your browser needs a restart or the OS asks you to reboot, losing all of those web pages and content is pretty disruptive," commented Mozilla VP of products Christopher Beard. Ain't that the truth, Chris!
An enhanced search feature will offer search term suggestions for punters using the integrated text box to search Google, Yahoo! or Answers.com, with a new search engine manager making it easier to add, remove and re-order your fave engines.
Although Firefox has enjoyed a meteoric rise in popularity and made a real impact on Microsoft's near-monopoly of the browser market, recent figures from OneStat.com reveal that global usage of the browser slumped 1.44 per cent from July, and now stands at 11.49 per cent.
Internet Explorer still rules the global roost with 85.85 per cent of the market, increasing 2.8 per cent since July while, global usage of the Mac-only Safari browser is just 1.61 per cent, down 0.23 per cent from July.