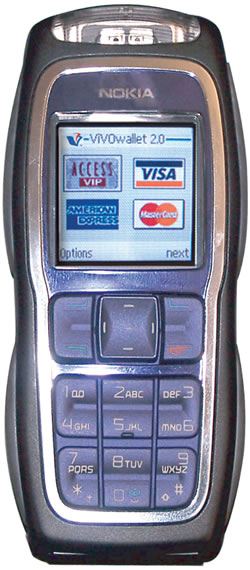 An NFC payment system is on trial in Amsterdam allowing people taking part to make purchases using their mobile phone.
We're massive fans of NFC (Near Field Communications) and have been for close to two years. We see it as a significant way to enhance the function of your mobile phone (primarily), as well as a new way of getting content to your phone.
Eight companies are getting together for the latest trial, this time lead by Japanese credit card giant JCB and marks Europe's first contactless international credit payment scheme using a Nokia 3220 with an NFC chip.
Selected JCB cardholders are provided with a mobile phone by Nokia, which are equipped with an NFC chip, developed by NXP and loaded with the JCB payment application developed by Gemalto.
The first transaction of the pilot was conducted at Sushi Time, the Japanese sushi restaurant in the World Trade Center in Amsterdam.
At selected PaySquare merchants, cardholders can securely purchase items by just holding their mobile phone close to ViVOtech's contactless NFC reader/writer, which is attached to the payment terminal of CCV.

Approximately 100 selected JCB cardholders are now enjoying fast, easy, and convenient payments with Mobile J/Speedy at selected merchants, where they used to pay by cash.
Although it has only been one month since the trial was launched, the increasing number of repeat usage indicates a strong acceptance of the technology and a very successful pilot.
"Feedback from the first users of Mobile J/Speedy has been very encouraging and we are pleased to now be able to involve a wider group of customers," said Hajime Matsuura, branch manager of JCB International's Amsterdam branch.
The first European NFC-based public transport ticketing trials took place within the local bus network in the city of Hanau, near Frankfurt, Germany in 2005.
Expect plenty more news on NFC trials.