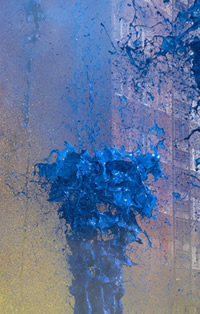 Sony and Sky are tying up to show the UK's first HD advert tonight.
You may well have seen a lot of the build-up for Sony's latest advert – the one with the paint. It's the follow-up to their coloured balls advert shot in San Francisco.
Appropriately the advert is for Sony's Bravia range of HD TVs. Shot in the somewhat less-glamorous location of a disused tower block in Glasgow, Scotland, it shows 70, 000 litres of coloured paint exploding up the side of the block of flats.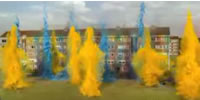 Shot over 10 days and with a crew of 250 people, the paint was mixed on site by 20 people. The clear up took 5 days and 60 people.
Behind the scenes footage of the shoot has been circulating on the online video services for about two months now. The wobbly camcorder shot material lends itself to looking like it's been shot by your 'man in the street,' but given the size of the campaign, it's more likely to be seeded by Sony or their advertising agency, to try and create a build up of interest.
Here's the finished results.
It makes total sense for Sony to shoot this ad in HD given they've been pushing HD for nearly 3 years in Europe – initially through their professional arm that sells the cameras. Given their zeal in this area it makes you wonder why it took so long for an HD advert to come out from them.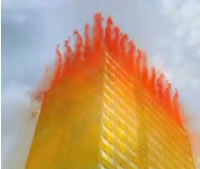 The launch of this first HD ad follows a major marketing agreement between Sky and Sony to promote HD.
The HD advert will shown on Sky Sports HD 2 tonight during the Chelsea vs Barcelona football coverage.