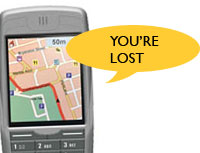 A new survey of over 1,000 early adopters and mobile phone business users discovered little enthusiasm for mobile video but a keen interest in using handsets as navigation aids.
According to the Chicago Tribune, the study by market research firm In-Stat suggests that mobile phone companies may need to change their strategy as they try to encourage more users on to third-generation data services.
In-Stat analyst David Chamberlain noted that there'd been some "disappointment" in the industry as uninterested consumers had failed to clutch mobile video to their hearts in vast numbers.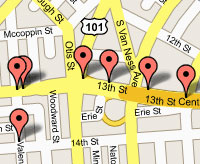 Commenting on the low uptake of value-added 3G services, Chamberlain suggested that customers were reluctant to part with their hard-earned just to watch juddery little video clips of "yesterday's ballgame" on the squinty displays of smartphones.
Although just 15 per cent of those surveyed expressed a strong interest in mobile video, when they were asked if they wanted phones capable of giving out location information and directions, over half (53 per cent) said, "we'll have some of that please, squire."
"People like the idea of getting directions from their phone to take them to their destination," Chamberlain observed, adding, "They like getting suggestions about restaurants nearby and how to find them."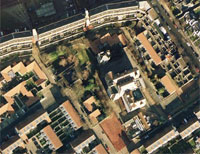 If the findings of the In-Stat survey prove to be representative of the population as a whole, it looks like mobile phone carriers are going to have to shuffle around their ranges of phones currently being offered, and give GPS-enabled phones a bigger push (or look to include more mobile navigation apps like Google Maps).
Although navigational applications don't hog as much bandwidth as TV and video, mobile companies should still be able to persuade users to upgrade, pointing out that mapping programs still need a nippy third-generation network to provide fast route updates.