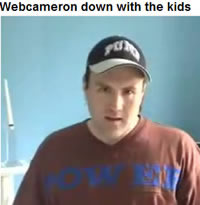 Some MP's are trying to create brouhaha (fuss) about a spoof video put out by labour MP Sion Simon mocking the first video of Conservative party leader, David Cameron on his Webcameraon site.
If you've not seen Cameron's first piece, which was put out in advance of the Tory party conference, take a trundle through – it's only just over a minute long.
When we saw it, we found it pretty contrived, with "Dave" just about to do the "washing up" – clutching his Ecover washing-up liquid (look how green I am), without rolling his sleeves up!
Sion Simon's video repost parodies Cameron's "hey, I'm just like you" approach and can be seen below can't been seen on YouTube anymore as someone has pulled the video. To see it now, you'll have to watch it via the BBC.
The criticism of Simon is being lead by Peter Luff and given Luff's comments, it appears that he's not too secure in his position, "When you go over the top like this, you bring all of us in politics into disrepute." If you've watched the film I think you'll agree that the video is hardly over the top, just gently mocking.
Criticism of the video isn't just restricted to the opposition. Labour MP Stephen Pound said he thought Mr Cameron's wife Samantha would be "hurt and insulted" by remarks made by Simon, referring to his comments suggesting that Cameron would be fine with people sleeping with his wife.
It's not just MPs that are creating spoof videos. Someone calling himself WebCameraOn has created a number of videos pocking fun as well.
Cameron is playing the "am I bovvered" card. 2:49 minutes into this piece, Cameron mentions that there had been a number of spoofs of his piece, calling them "The greatest form of flattery, imitation." Bizarrely Cameron also says, "Hope that you people are enjoying the Web site," "You People"?
Cameron – or at least someone in his team – has clearly seen that he now has the ability to bypass the media and the filter that they apply to his comments.