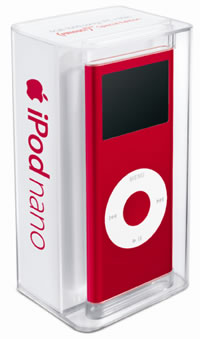 If you haven't heard of (RED) yet, you certainly will – there's a ton of celebs involved and it's going to be all over the media. It was created by Bono and Bobby Shriver, Chairman of DATA and it's already been on Oprah in the US with Penelope Cruz and Kanye West.
(RED) tell us they're not a charity, they're a business model. "You buy (RED) stuff. We get the money. Buy the pills and distribute them. They take the pills, stay alive, and continue to take care of their familiaes and contribute socially and economically in their communities."
Apple have a Nano (RED), which is not surprisingly red. Buying one will give you the prefect opportunity to show that you are supporting the (RED) cause. $10 of each one sold goes to (RED). Apple will also offer a £15 and £25 iTunes (PRODUCT) RED gift card available for purchase at Apple's retail and online stores next month.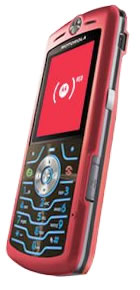 Motorola are the "exclusive wireless partner" for (PRODUCT) RED and have two handsets of the red hue. The red MOTOSLVR is exclusive to the UK and the MOTORAZR V3m is only available in the US. The deal with the phones sounds like it's actually better for (RED) long term depending on the service provider. With Orange, 5% of your monthly phone bill spend will also be donated to (RED).
We'd normally be dismissive of red-ipod-type-stunts, but an effort like this can't be a bad thing. Tune in to their blog to stay current.