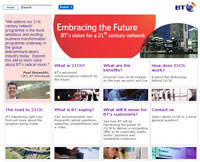 BT has released detailed plans for the rollout of its next generation 21CN network.
The technology will form the basis of BTs voice and data services for the near future, with the first area to be linked into the network being Cardiff.
And what finer city could they possibly start with?!
Between November 2006 and Summer 2007, 350,000 customers in the lovely, lovely Principality will be hooked up to the new network, with a rolling program scheduled to connect the rest of the country starting in 2008.
BT says that nationwide coverage should "substantially complete" by the end of the decade.
The 21CN network project sees BT shifting all voice and data services onto a single IP network that will carry fixed, mobile, voice, data, and video on-demand at speeds of up to 24 Mbps.
"Rebuilding the core telecommunications infrastructure of the UK is a massive undertaking," said Deb Covey, managing director of BT Wholesale networks.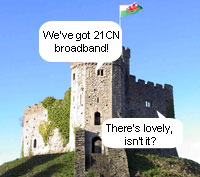 "Planning the rollout programme has been a complex task with industry consulted at every stage. Work is now well underway to create the new backbone for 21CN – this has to be in place across large parts of the UK before the first customer lines are switched across," she added.
Huw Saunders, of Kingston Communications, speaking as Industry co-chair of the Consult21 Steering Board, commented: "As an industry, we've participated in the development and design of BT's programme to ensure that it takes into account the needs of everyone, regardless of which communications provider they choose to take services from."
"What happens in Cardiff in a few short months is only the beginning of the journey," he observed.
We only hope he wasn't referring to Saturday night punch-ups on St Mary's Street.
What is 21CN?
Here's how BT describes the new technology:
"21CN is BT's next generation network which it is building in the UK and throughout the markets we serve. It is an advanced broadband network based on intelligent systems, Internet Protocol (IP), Session Initiation Protocol (SIP) and Multi-Protocol Label Switching (MPLS). IP is key to 21CN because it has the potential to act as a common transport protocol for all types of communication and applications; SIP allows the service provider to control the communications activity to meet a customer's requirements and MPLS enables the efficient designation and routing of IP traffic flows."