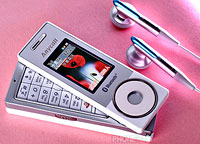 Looking like lovechild of a bedtime romp between an iPod and a mobile phone, Samsung's X838 phone has real "gimme!" appeal.
Folded up, it looks like a conventional compact MP3 player, complete with a 128 x 220 pixels 26k colour screen and a control scroll wheel clearly 'inspired' by Messrs I and Pod.
Turning the device into a phone is simply a case of swivelling the pull out screen through 180 degrees to reveal the phone keys lurking below.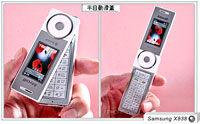 Because of the narrow, slimline construction, the number keys are unusually arranged in rows of two, with the usual 'call' and 'end call' buttons at the top.
We're not sure if closing the screen ends the call or if the thing is spring loaded, but either way the phone looks great to us.
Unlike many botched attempts at converging mobiles with music players, this one manages a pretty good likeness to a 'proper' MP3 player, with the colourful display offering track information and album art.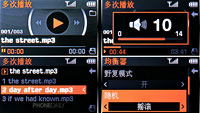 There's also an easily accessible 'hold' button so you don't end up ringing your Mum when you're rocking out to Pantera, as well as a volume up/down control on the side of the unit.
Inside, there's 1GB of internal memory for storing tunes as well as a 1.3Mpix onboard camera and a sneaking suspicion that it also plays videos.
We couldn't see any sign of an expansion slot, which is a bit of a shame, nor any reference to battery life (with something as small as this, we're figuring it's not going to be that long).
Also bundled in with the Bluetooth-enabled X838 is an alarm clock, recording functionality and a Java game.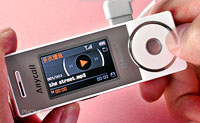 We spent some time trying to translate the text from the Phone Daily website, and we think that the phone will be available in black, white, orange, and, err, powder.
Whatever colours the thing comes in, it looks like a great phone to us: ultra-small, compact, cool and with a fun interface, which only leaves one question. When can we have one please?
[From Akihabara News]