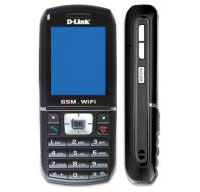 Router heavyweights D-Link have announced a new line of "V-CLICK" dual-mode phones that allow users to easily switch between cellular and Wi-Fi networks.
Due to start shipping early next year, the new D-Link V-CLICK phones rack up the connectivity options with tri-band GSM (900/1800/1900 Mhz) and switchable 802.11 Wi-Fi (2.4Ghz) capabilities.
Once the user's SIM Smartcard is slapped into the V-CLICK phone, GSM access is provided with stored phone numbers and address books automatically imported into the phone.
The phone's quite an attractive looking affair, resplendent in an all-black, compact-but-chunky shape (h 4.17″, w 1.73″, d .75″), with D-Link offering additional colours planned to fit any lifestyle (we're not sure how a phone's colour fits in with someone's lifestyle, by the way, but there you go.)
Wi-Fi access is turned on and off with a bash on the phone's V-CLICK button, with Opera Mobile browser support for surfing Websites and checking mail on the phone's two-inch (176×220 pixels) screen.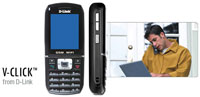 D-Link doesn't say if the phone will work with existing VoIP providers like Skype – their press statement simply says that users will be able to configure a specific SIP profile, with multiple profiles being available "to make usage between home and office automatic."
"D-Link's involvement in dual-mode technology is the next step to evolving wireless phone communication," purred Steven Joe, president and CEO of D-Link Systems, Inc. "Similar to our popular flip-style Wi-Fi phone, the V-CLICK phones are open and unlocked.
"The market for dual-mode phones looks very promising, and the more than 10 years we've had in researching and developing 802.11 wireless and VoIP technologies make this a natural extension of our product offerings," he added.
D-Link quote a phone battery life of around 5 hours of talk time with GSM, slipping down to just 2 hours over Wi-Fi. Users can turn off the Wi-Fi to save juice
The phone should be knocking out around a very pricey $599.99 (£318,€472) and will be available from the D-Link shop some time in the first quarter of 2007.