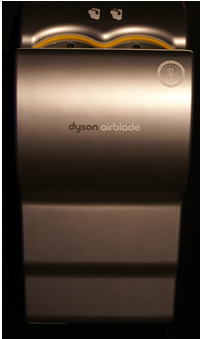 Dyson have this morning launched a new product, the Dyson Airblade, a replacement for tired old hand dryers.
You know the problem. You go to the toilet, wash your hand then you met with the air blowing hand dryer. You stand there for what seems like ages, rubbing your hands together in the vain hope that they are drying. Getting frustrated with it, you walk away and run your hands on your trousers in frustration, reminiscing about the days when towels used to inhabit bathrooms.
The clever sticks at Dyson were working on an unnamed product using what they term 'Air blades' – air shot out at 400MPH through a 0.3mm gap, when one of the engineers noticed that they were pretty effective at drying the water from his hands. The genesis of the product had occurred.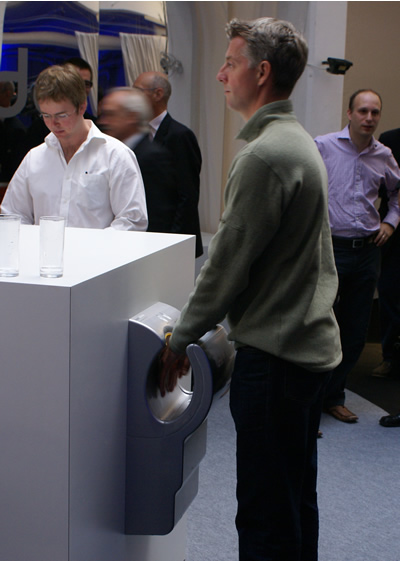 To use the Airblade dryer you place your hands in at waist height, the airblades switch on, and you slowly draw your hands out, up towards you. Do it slowly enough – Dyson claim 10 seconds for the process.
What's it like to use?
Having used it, I was pretty impressed. It actually felt like 'the future'. We've all seen the films where people walk in to the air shower and are clean and dry within 30 seconds – well think of that on a small scale.
There's no discomfort, and because the air passes through filters before it gets to your hands and no germs. This anti-germ theme is extended to all of the external surfaces which have an anti-microbial coating.
The water removed is drained to the bottom, through an iodine chamber to purify it, finally dropping on to a piezo element which vibrates like billy-o and turns the water into vapor.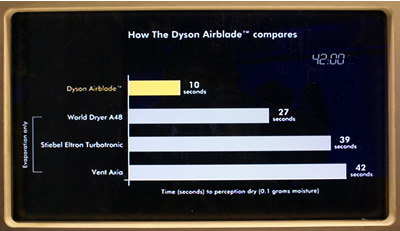 Dyson are betting large on this one having committed £10m to the 2.5 years of development.
A success for Dyson?
This is a smart move by Dyson and their first step into 'trade' appliances. Every public toilet in the world has a hand-dryer of some sort. Products like this provide a great, steady source of income – possibly for a very long time.
Beyond public toilets, there's a huge potential for sales to hospital, where UK residents will know, there's considerable concern about the spread of germs.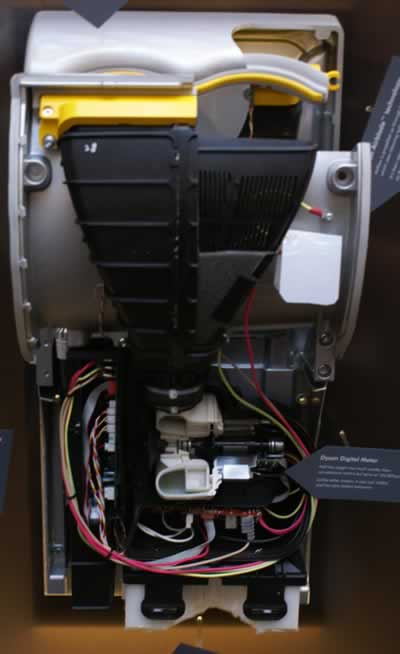 Trials have been running in motorway service stations, hospitals and other locations for a number of months, but not under the Dyson name – they invented Kai-Don Airstrip to throw off the competition.
The competing products are considerably cheaper, but Dyson claim that due to low energy usage their Airblade will pay for itself in a year.
If you are fed up with washing the towels at home, you'll be able to buy on from mid-November for £549 and sample the feel of the future.