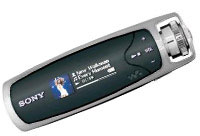 Just spotted on the play.com site is Sony's new NWS706 Walkman MP3 Player, kitted out with a healthy 4GB of flash memory.
Specifications are a bit vague at the moment, but the site gives out a few tantalising details of the mini-player.
Described by some wags as 'tampon-shaped,' the chunky-looking, cylindrical Sony offers the same rotary playback control as seen on the earlier NW-A600 series.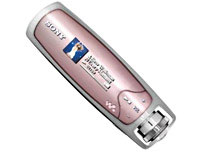 Notably, it's also got a colour screen, albeit a teensy weensy, itty-bitty one which has to be one of the smallest we've ever seen that's capable of showing album artwork (but we like seeing album art, even when it's this small!).
The Sony comes in a range of three colours – pink, purple and black – and also sports a built in FM Tuner and a line-in recorder.
We're not sure right now if the NWS706 can also record off the radio, but surely Sony wouldn't be so daft as to leave off that useful feature. Would they?.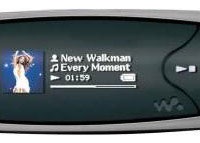 The Walkman is billed as shipping with "noise cancelling technology," courtesy of "high value EX headphones" with the player promising a healthy 50 Hours battery life backed up by a quick charge function.
The player also touts a USB 2.0 interface for the nippy transfer of tunes from the user's PC.
Play.com is currently advertising the NWS706 Walkman MP3 for £180, with delivery promised on the 9th October