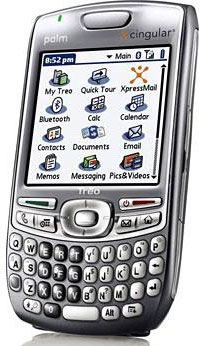 Currently leaking out all over the Web is this picture of a Palm Treo 680 with Cingular branding.
Apparently found lurking on Palm's software store before it promptly vanished, the Treo 680 looks to be the likely candidate for "lower priced Treo" which was recently hinted at by Palm's CEO.
Like the recently announced Windows Mobile Treo 750v, the Palm OS Treo 680 has lost the distinctive chunky antennae seen on earlier models.
Unsurprisingly, Palm OS aficionados who have been starved of a new Treo release on their favoured platform for some time have been carefully examining the photograph.
Some have suggested that what looks like a larger memory card cover means that the company are sticking with the standard SD card expansion slot, although the IR port may have vanished (or simply shuffled to another part of the phone).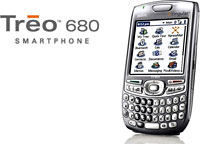 Although it looks like a slimmer, sleeker version of the 650, the phone is aimed at the lower end of the market, so is expected to feature a rather disappointing VGA resolution camera along with Bluetooth, 64MB memory and run the trusty Garnet version of the Palm OS (sure it's as old as the hills now, but it's still one of the best mobile operating systems around in our opinion).
Sadly, there's no Wi-Fi or 3G onboard, which leaves Palm OS fans hoping that a higher spec'd Treo may also be waiting in the wings.
There's no news on pricing yet, although an October release is widely anticipated.
Source Palm Infocenter