THUS, the communications provider that owns the Demon brand has announced it has become the preferred supplier for HSBC in the UK. The contract is expected to be around £50m plus over 5 years.
The contract covers connectivity for all their branches, ATMs etc (2,200 UK sites).
THUS recently sold off Demon Internet in the Netherlands to KPN, which means they have paid off most, if not all, of their debt and puts them in a very positive position compared to many UK telecoms providers.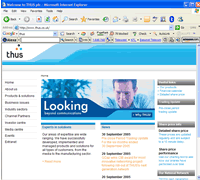 THUS also recently acquired Your Comms (a business telco based in the North of England) and Legend, a smallish ISP with a portfolio of VoIP products. Other acquisitions must be on their mind.
Consumer Broadband is free, concentrate on business services
The consumer broadband market is rapidly becoming commoditised, which is good for the customer, though margins are extremely low, so providers need to find other revenue streams to make services pay for themselves.
Though Demon in the past have had lots of consumer customers, they have wisely concentrated on the business markets. Business broadband can still command premiums, as it allows customers to utilise services such as VoIP. Customers who want quality of service can even use broadband to connect to THUS' backbone MPLS network so allowing teleworking and VPN's to be securely provisioned.
THUS isn't as big as several other telcos (in terms of customers or revenue), and in the recent past, they may have looked like a buy-out opportunity, however as they've concentrated on services that make them real revenue the tables may have turned with them becoming a threat to other bigger players who could be acquisition targets themselves.