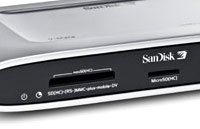 Although there's no shortage of gadgets like smartphones, PDAs, iPod and PSPs that are capable of playing back video, getting footage on to the fellas can be a bit of a pain.
"Today's increasingly mobile consumer wants to be able to watch their favourite shows and videos, whenever and wherever they want," insisted Wes Brewer, SanDisk's vice president of consumer product marketing, and he reackons the new SanDisk V-Mate is a simple and practical solution to the problem.
Video hungry gadget freaks can simply hook up analogue audio or video outputs to the device, slap in the memory card from their multimedia handset and the Sandisk will record the content straight to the memory card.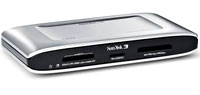 Users can connect the V-Mate to the AV output of their video recorder, set-top box, Freeview, DVR, DVD player, TV or other device and use the V-Mate's remote control to configure the device, plus record and access content via a TV-based interface.
The SanDisk offers multiple programming slots for entering channel, date and start/stop times to schedule recordings, with users being required to select their playback device to ensure the recordings are playback compatible.
The box also comes with an infrared emitter which can automatically turn on the TV tuner box (cable/satellite/terrestrial receiver or VCR) and select the right channel when programmed to record.
There's also a mini-USB port on board for connecting the unit to a desktop/laptop PC.
Being designed for the wee small screen of portable multimedia devices, the SanDisk offers a maximum recording resolution of just 640 x 480 – perhaps not great for your 72″ HD plasma screen at home, but just dandy for yer average smartphone.
At this low resolution, punters should be able to grab around three and a half hours of video footage per gigabyte – ample time to keep you entertained on even the most delayed of commuter journeys.
"We are hoping to replace the VCR with this product," a Sandisk spokesman enthused. "It will be like having a video recorder in your pocket."
The 5.1″ x 2.6″ x 0.8″ V-Mate is compatible with a ton of memory card formats: SD, MMC, MMCplus MMCmobile, SDHC, MiniSDHC, MicroSDHC, Memory Stick PRO, Memory Stick Duo and Memory Stick PRO Duo, and the device is expected to go on sale in October for $130 or so.