Societa Italiana per lo Sviluppo Dell' Elettronica, S.p.A., (Sisvel), a Turin, Italy-based patent management company filed a complaint with German public prosecutor in Berlin last week over SanDisk not paying Sisvel a license fee for using their 'essential' MP3 patent. Prices for stereo equipment start at 60c US per player, reducing with volume.
The German public prosecutor was convinced by the argument and issued an injunction to remove all of the MP3 players from the Sandisk stand. Those visiting the stand will only be able to look at its pictures of the MP3 players.
The outcome
Clearly this will hit Sandisk pretty hard, not only in the embarrassment of the story getting out, but they will not be able to show any of their MP3 players to the German retailers who visit them at IFA – don't forget IFA is a trade as well as a consumer show.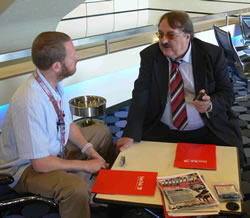 During an interview with Digital-Lifestyles [MP3 of Interview], Roberto Dini, consultant to sisvel, in his flamboyant style, made the self-proclaimed extreme comparison of the injunction being like cutting off a supplier at the port, so the goods doesn't get distributed.
We asked SanDisk to comment, but they said they didn't currently have anything to say beyond this official statement.
In a litigation currently pending in the Mannheim District Court, SanDisk is showing that its MP3 player operates a technology which is completely different from a certain audio data transmission and reception techniques that has been patented for Philips and others many years ago. An expert opinion from on os the founders of MP digital audio compression substantiates SanDisk's position. SanDisk is not infringing any patent in the pending litigation
This has history
This isn't the first time these two have had legal clashes. The battle between the two parties has been well documented, SanDisk even detailed the various legal actions in their latest stock market 10-Q filing last month.
Sisvel have taken action against them in four countries, US, Netherlands, Germany and the UK.
SanDisk have filed its own suit in the English Patents Court back in March, 2006 against Sisvel and owners of the patents Sisvel has tried to assert; Koninklijke Philips Electronics NV, France Telecom SA, Telediffusion de France SA, Institut für Rundfunktechnik GmbH.
Sisvel's Dini's response to the action? "It means that the 600 companies, the biggest ones, who have taken a license, they are stupid, because all of the other have paid."
This one looks like it's going to run and run.
Listen to the Interview with Roberto Dini, Sisvel
SanDisk
sisvel