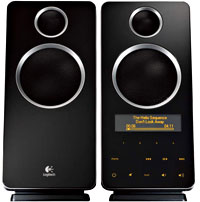 Although speakers are an essential part of any gadget lovers set up, let's be honest: they're a bit boring to look at.
Although some may sport a groovy metal grill or maybe an exposed speaker or two, there's little there to catch the eye of hard core, gizmo eye-candy addicts.
Thankfully, Logitech have come to the rescue with their new USB interactive 2.0 speaker system that comes with a built-in Media display and touch sensitive controls. Woohoo! Lights and buttons – on a speaker!
Naturally, the designers have dreamt up a suitably tech sounding name for the speakers (say hello to the "Logitech Z-10 Interactive 2.0 Speaker System," with one of the units sporting an illuminated LCD display showing digital-music track information, volume and – whoopee! – yet another clock to look at.
"Until now, PC speakers have simply delivered sound", correctly observed Jef Holove, Logitech´s vice president of product marketing for audio.
Adjusting his hyperbole slider upwards, Holove continued, "The Z-10 speakers aim to incite more of the senses – sight, touch and sound – with their media display, touch-sensitive controls and premium audio," adding that their new system has, "eliminated the need for people to toggle between applications to control their music on their computer monitor".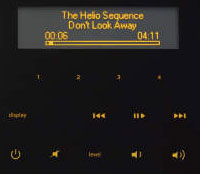 Well, we actually already use one of their keyboards that does just that, but we're sure that some folks may appreciate being able to adjust volume, treble and bass, and play, pause, skip forward and jump back through tracks from the comfort of their, err, speaker.
There's also four Internet radio preset buttons located on the speakers' touch sensitive panel, and there's software support for iTunes, Windows Media Player, Winamp and Music Match, although the multimedia controls are Windows-only.
The 30w RMS USB speakers have built in amplifiers and are medium sized – 9.7 inches tall, 4.5 inches wide and 4.7 inches deep speakers – with each having an integrated 1-inch tweeter and 3-inch woofer.
The Z-10 comes with a headphone socket and a 3.5 mm auxiliary input, but with no bundled subwoofer, drum'n'bass heads looking to rattle the dentures of their neighbours with some Boeing-like bass are advised to look elsewhere.
The Logitech Z-10 Interactive 2.0 Speaker System is scheduled for a US/Europe September release, with a suggested US retail price of $149.99. No UK pricing has been announced yet.