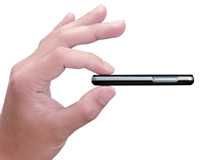 As we've all witnessed, Apple's Nano is a beauty to both behold and hold. The whole industry has been gunning for Apple, ever since they realised that Apple had shifted the market. We've seen many attempts to put out devices to match or catch them, only to watch them fall by the wayside..
Today we saw the Philips GoGear Flash player and very sweet the thing is too. The same thickness of the Nano, it's just 9cm long and weighs in at a nearly unnoticeable 48g.

What's it like?
It looks like they've done a great job on the interface, which displays rich icons. Controlling it uses their touch sensitive SuperScoll, so tapping, dragging or swiping a finger on the smooth surface is possible.
The 'buttons' themselves glow an attractive blue, complementing, rather than distracting the eye away from the 1.7″(4cm) colour screen, that is also able to display photos.
They reckon there's up to 14 hours of continuous play in the battery. Unclear if that's playing mp3s or the Windows Media DRM10 files which we suspect will need additional power to service the DRM fucntion. PlayForSure is supported, which we're not sure is the biggest selling point.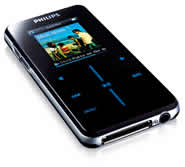 There's going to be an optional docking station that works with the newly-upgraded Streamium, WiFi HiFi. Once the GoGear (a nifty name, the more you say it) is docked, its track list appears on the streamium and tunes can be played through it.
There will be two versions available; 1Gb (SA9100) and the 2Gb (SA9200), 'at the end of summer' (when ever that is) and will sell for €149 and €199.
Year on year, Philips really do look like they're pulling themselves out of the old rut they had – great R&D, but terrible looking products.