AOL has got out its digital scrubbing brush and polish and revamped its Web-based music download service, serving up a redesigned product that adds music videos, streaming radio and user community features.
Debuting in the US today, the all-new version of AOL Music Now is set to offer 2.5 million audio tracks and thousands of music videos.
The updated service offers unlimited PC downloads for $9.95 a month, rising to $14.95/month if users want to transfer songs to compatible portable music players, with the AOL Radio with XM Satellite Radio service available for $4.95 per month.
Audio tunes can be bought individually for 99 cents, with music video downloads costing $1.99 each.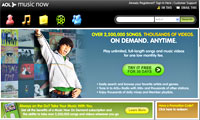 Another new feature sees more than 200 AOL radio stations and XM Satellite Radio being offered to subscribers, with the ability to browse the playlists of other subscribers.
AOL are hoping that their AOL Music Now subscription plan will make a splash in a highly competitive market place by uniquely offering unlimited music video downloads.
Open doors
Until recently, AOL's services were only available to their Internet access subscribers, but with AOL Music Now open to all Web surfers, the company are hoping to drive lucrative online advertising revenue skywards.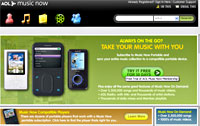 "It's available to anyone to come to the service and search for songs," said Amit Shafrir, president of AOL Music Now.
"We have a huge online presence and won't have to spend tens of millions of dollars in marketing to attract users," he added, possibly rubbing his hands at the prospect.
Unlike Apple Computer's massively popular iTunes service, listeners won't have to download a standalone software application to play tunes directly from a Web browser, and the service is also compatible with Microsoft's PlayforSure compatible portable devices.
Whether AOL's new service will manage to make an impact in a market dominated by iTunes and hotly contested by the likes of MTV Networks, Yahoo's Music Unlimited, RealNetworks' Rhapsody and Napster remains to be seen.