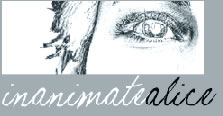 Inanimate Alice is a story about a games developer called Alice created by Kate Pullinger, Ian Harper & Chris Joseph. The story tells of her childhood and how she created and played games as she grew up in different countries around the world. Inanimate Alice a multi part episodic, interactive game which is available online at inanimatealice.com.
The story was written by author Kate Pullinger (author of The Piano) in conjunction with script writer Ian Harper & multi media designer Chris Joseph. The idea grew out of a David Puttnam project Harper was working on. Pullinger brought in Joseph, whom she had worked with previously on the game The Breathing Wall.
The team have a well developed concept for the sequence (which has just reached episode 3) which should see 10 episodes of the game with potential for development into other media including graphic novels, a multi-player online environment and, ultimately, film.
The newly completed episode 3 was premiered for the audience. Part game, part film, part text, Inanimate Alice utilises a wide range of styles and techniques to engage its audience. Combining collages with CGI action, stylised animation within animation, and narrative text overlaid on the visuals, Inanimate Alice is visually extremely attractive. There's also a clever soundtrack that marries pumping action music with atmospheric effects, electronic noise and interference to achieve a rich multimedia experience.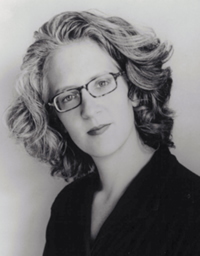 In a question and answer session the trio revealed that the project is aimed at the widest possible audience (especially non-gamers) but is currently most popular amongst 16-35 year old females.
Pullinger is also appearing at the Edinburgh Book Festival later this week. Unfortunately Inanimate Alice will not be on her list of topics. "Book publishing" she said, "is decades behind in terms of interactivity and convergence. Interactive narrative content is not of interest to literary festivals."
Which is a shame, as Pullinger is amongst a new breed of writers who is happy producing material for a variety of media including print, radio, movies and now games.
For the moment, Inanimate Alice remains a Web project, but the team are looking at all possibilities for developing the project. The suggestion by one audience member that players could direct the plot in future episodes was warmly welcomed and Pullinger cited tv's Lost as the type of experience the team were modelling Alice on. A new type of narrative with a strong story at the core and lots of spin off projects and interactive elements to keep the audience interested.
The session finished with a panel discussion, including Rosanna Sun, on movie and game convergence. There was a broad consensus that content was the most important aspect of any media project. Technology, while important, was felt to be secondary to the telling of a good story.