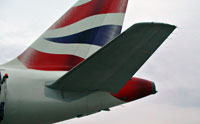 Gadget fans dreading the prospect of long Transatlantic flights without the comforting flicker of LCD screens or the in-ear thump of iPods will be pleased by a relaxing of the restrictions brought about by last week's 'critical' terrorist security alert.
From 4.30am this morning, the Department for Transport (DfT) will allow Heathrow passengers to carry one item of cabin baggage on to planes, and this can include your lovely electronic gadgets – on the proviso that it is kept in clear plastic bags.
In a statement, the DfT said the new arrangements will apply to "all passengers starting their journey at a UK airport and to those transferring from international flights at a UK airport".
The maximum dimensions for cabin baggage have been substantially reduced which may tempt hardcore travellers into investing into an ultra portable laptop rather than risk lumping their precious laptops into unpressurised cargo compartments.
Long distance lotharios who like to splash it all over with Brut 33 before arriving at their destination will be disheartened to learn that the carrying of all liquids remains forbidden.
Here's a full breakdown of the new rules: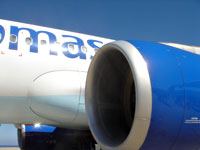 Cabin baggage must not exceed a maximum length of 45cm, width of 35cm and depth of 16cm (17.7″ × 13.7″ × 6.2″ approximately), including wheels, handles and side pockets. This is smaller than the previous limits on hand luggage.
Other bags, such as handbags, may be carried within it.
All items carried by passengers will be X-ray screened.
No liquids of any type are permitted through the airport security search point, with two exceptions: Prescription medicines in liquid form essential for the flight (such as diabetic kit), as long as it is verified as authentic. Baby milk and liquid baby food (the contents of each bottle or jar must be tasted by the accompanying passenger).
Liquids not allowed include gels, pastes, lotions, liquid/solid mixtures and the contents of pressurised containers, for example toothpaste, hair gel, drinks, soups, syrups, perfume, deodorant, shaving foam and aerosols. No cosmetics, toiletries or sharp objects.
To help their progress through search points, passengers are encouraged not to include items capable of containing liquids (e.g. bottles, flasks, tubes, cans, plastic containers etc.) in their cabin baggage.
All laptops and large electrical items (e.g. large hairdryer) must be removed from the bag and placed in a tray so that such items neither obscure nor are obscured by the bag.
Pushchairs and walking aids are permitted but must be x-ray screened. Wheelchairs are permitted but must be thoroughly searched.
Passengers boarding flights to the USA and items they are carrying, including those acquired after the central screening point, will be subjected to secondary search at the gate.
Any liquids discovered will be removed from the passenger.
More info: BAA