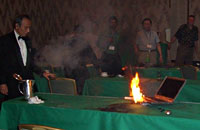 Dell has announced that it is to recall millions of laptop batteries over fears that they could overheat and pose a fire hazard.
According to a report in the Wall Street Journal, Dell are working with the Consumer Product Safety Commission in what the commission is describing as, "the largest safety recall in the history of the consumer electronics industry."
This big daddy of product recalls involves 4.1 million lithium-ion batteries manufactured for Dell by a unit of Sony and sold between April 2004 and July 2006.
The recall comes after Dell says it received six reports of batteries overheating, resulting in property damage to furniture and personal effects, although many suspect the figure to be much higher.
The problem hit the headlines in June 2006, when a Dell laptop burst into flames during a conference in Japan.
Photos of the flaming computer were posted on the tech site The Inquirer, with the eye witness reporting that the computer "suddenly exploded into flames" and "produced several explosions for more than five minutes."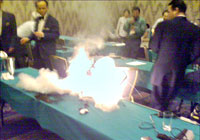 A battery of battery recalls
This isn't the first time that Dell has issued recalls for its batteries either.
In December 2005, the company was forced to recall 22,000 batteries in the United States after fears that they could overheat and create a fire hazard.
The jumbo-sized recall adds up to 18% of the 22 million notebooks Dell sold during the period, this rather raises questions about about the safety of other laptops using Sony-built batteries.
Images courtesy of The Inquirer.