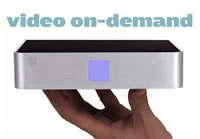 HomeChoice have agreed to be taken over ISP Tiscali in exchange for 11.5% of their new owner.
The tenacity of HomeChoice has always impressed us. They've been going for years and have just refused to give up. Getting started in the days when Video on Demand meant asking to rent a video from your local video rental shop, they've been through quite a number of investment rounds, some so severe that the investors ended up with nothing.
Never hitting big numbers, the writing has been on the wall for them, what with Sky getting into broadband, NTL re-enlivining themselves with Virgin mobile and BT Vision on the horizon.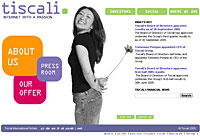 HomeChoice has been settled on around 45,000 subscribers for quite a while now as they've been restricted to operating within London and some areas to its north. They just haven't had the investment available to unbundle anymore exchanges beyond the 145 they have to spread their service. Their original expansion was hampered by the huge cost BT used to charge them for the Visionstream service they needed to run the service.
The last murmur about HomeChoice was that Sky was casting their eye in their direction, but we suspect that this was floated by the company itself to try and flush potential suitors out of the wood work.
As to why Tiscali has bought them …
It's likely that Tiscali feels they need to move fast to avoid becoming sidelined by the other companies putting themselves forward as the Big Boys in the ISP/IPTV/Phone market.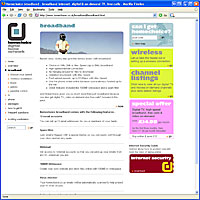 By buying HomeChoice they'll start with something they can build on, rather than having to start from scratch, giving them a time advantage. This is made very real by gaining 145 unbundled exchanges within London taking Tiscali to a total of 330 country-wide.
Homechoice has also spent quite a lot of effort in the last year building up their content relationships, creating niche programming.
As to the backend iron that HomeChoice is using to power the VOD – it may be that is getting a bit long in the tooth these days.
Don't forget Tiscali don't actually have to put their hands in their pockets either, just swap stock.