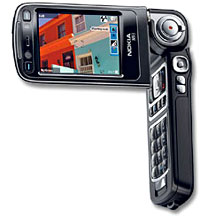 Hollywood hot shot Gary Oldman is today releasing his new short film, shot on the Nokia N93 we're told.
He's taking the short label pretty literally, as the puppy is two minutes long, featuring what is described as "a round reflection in rippling water set to a haunting soundtrack." Sounds lovely.
We'd imagine that this has cost Nokia a pretty penny, but it all goes towards burning into your brains that Nokia is about film. Creating it as we've seen here and watching it on their handsets too.
To that end, completely unprompted (we're certain), Gazzer said, "Mobile video devices like the Nokia N93 allow us to capture the extraordinary moments in our ordinary days and share them with the world. The image in Donut is one such fleeting moment I happened upon that inspired me to grab my mobile video device out of my pocket and record it to share with others. I hope my film encourages people to do the same and I look forward to seeing the results on the Nokia Nseries Studio."
Mr Oldman's short will be premiering online on the neatly mentioned Nokia Nseries Studio, where from today (another coincidence?) anyone can upload short films to share with the world.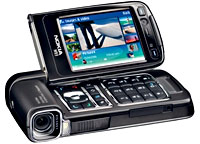 Happy Slapping
Camera phones have been used by some on the streets to make their own films, sadly many with violent overtones. Unfortunately the Hollywood violence that these youth had been subjected to for the whole of their lives (in the name of entertainment) wasn't staged as it is in films, but real. Happy Slapping video's stormed around school playgrounds about 18 months and featured members of the public getting assaulted, while those with the camera phones recording it laughed.
DVD quality or not?
Nokia appear to be back tracking a little on their definition of the quality of the onboard camera. When the N93 was first mooted, it was DVD-quality, it's now being labelled DVD-like.
Nokia aren't calling the N93 a phone with a camera on it, but a multimedia computer. You may mock, but this isn't too far from the truth – it's got a ton of processing power on board and a 3.2 megapixel lens with Carl Zeiss optics, DVD-like video capture and 3x optical zoom.
DV camcorders beware
Discussion of DVD-quality or DVD-like aside, the N93 shows the direction that camera-phones are taking, despite this early example being pretty bulky. The quality of these is approaching that of a standard DV (Digital Video) camera putting pressure on the DV manufacturers. The response to this from them is the introduction of HiDef camcorders. Expect this to become the standard.