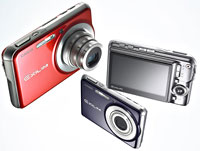 Casio Exilim Card EX-S770
First out of the blocks is Casio who have announced their new Exilim Card EX-S770 camera, a cheekily ultra slim, seven megapixel style camera.
As shiny as a highly polished thing with an extra coat of gloss, the new Exilim sports a new smoothed, rounded design and – we have to say – looks a treat.
The camera comes with a 3x optical zoom lens (38 – 114mm equiv, f2.7 – f5.2) a big'n'bright 2.8″ LCD monitor and offers 16:9 format MPEG-4 video capture.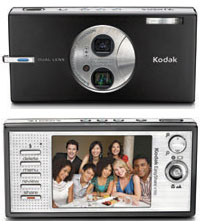 It's a tiny little fella too, measuring just 95 x 60 x 17 mm (3.7 x 2.4 x 0.7 in) and weighing just 127 g (4.5 oz) without its Lithium-Ion battery.
Kodak EasyShare V705, C875, C743 and C433
Kodak has also been breaking open the New Camera Bubbly with the announcement of no less than four additions to their highly rated range of EasyShare cameras.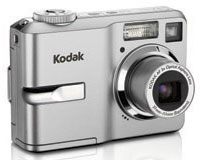 The 7.0 megapixel EasyShare V705 comes with the innovative Dual Lens design and a beefy 8 megapixel sensor, while the more conventional EasyShare C875 sports a 8.0 MP sensor and an all glass Schneider-Kreuznach optical zoom lens with 5x zooming.
The smarty-pants dual lens design of the V705 serves up an ultra wide 23mm fixed (35mm equiv) f2.8 view – great for architectural shots and wide open panoramic scenes – as well as a 3x zoom covering 39-117mm (35mm equiv) f3.9-4.4.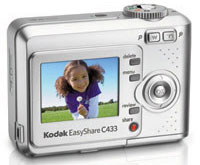 Kodak also announced two bargain basement cameras; the C743 and C433.
Try as we might, we couldn't get excited about them, but we can tell you that the Kodak EasyShare C743 offers a 3X optical zoom and 7.1 MP, while the Kodak EasyShare C433 comes with the same zoom range and a lowly 4.0 MP sensor.