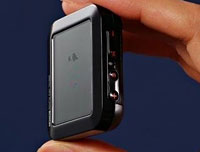 When it comes to convergence, we're always on the look out for shiny new smartypants devices, even if we're not always totally convinced about their usefulness.
A good case in point is the new Boxon VoIP gadget from Korean electronics manufacturers Hyunwon (who are better known as Mobiblu).
As the name suggests, the Boxon is an MP3 player a VoIP telephony system built in, letting you plug it into any Internet-connected PC and start talking for free.
To get chatting, simply slam the player into any available USB port on a desktop or laptop PC, and then the (unspecified) VoIP software should automatically load up on the host computer.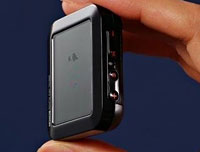 Of course, the idea of a converged MP3 player/VoIP device isn't a new one – in fact, we wrote about a very similar device, the Ezmax EZMP4200P VoIP MP3 Player, way back in March 2005.
The wave of disinterest that followed that particular product announcement suggests that perhaps the public aren't quite yet ready to shell out for VoIP MP3 players that need to be plugged into a computer before you can start chatting.
As a MP3 player, the Boxon looks to be a fairly middle of the road affair too, sporting a 1.71-inch full colour OLED display, with e-book reading, video playback, photo viewing, and an English-Korean dictionary.
We've no idea if (or when) this thing is going to be arriving in Europe, and we can't say we're particvularly bothered either because, well, it's a rubbish idea, isn't it?