Today, a rather old book from the late 11th century England (1086 to be precise) will be brought online to be searched. The Domesday Book, is the earliest surviving survey and valuation of the King, his senior supporters, the land they owned and their resources.
If you'd wanted to look through it previously, you had to drag yourself over to the National Archive in a rather calm building in Kew West London, or cough up a couple of thousand pounds to get them on CD.
By going to the Domesday Web site, you can search and get an idea if there's anything in The Book about your chosen subject. If you want to see a scan of the page, you, me and anyone in the World will be able to pay £3.50 per page to see it.
Those not wanting to pay for the documents can head over to Kew where they can be printed out for nothing.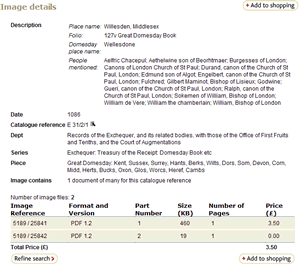 You might think that there's a little difficulty in using it, as many of the surnames used by people and names of areas have changed substantially over the last thousand-odd years. Luckily they thought of that one. Simply enter the modern name in the Place Name box, if you're a boffin with knowledge of ye-olde world, you enter the old name in the Other keywords box.
We don't want to cast a shadow over this notable event, but we wonder if it's right that UK residents, who already fund the National Archives through their taxes, should pay the same amount to access the info as those from abroad.

There's a couple of theories as to why it's called the Domesday or Doomsday Book (depending on your preferenece) – Biblical Day of Judgement or when some bloke called Christ will return to judge the living and the dead. Neither of them particularly jolly.
Those long in the tooth will remember the BBC launch the BBC Domesday Project, to put the book on the 12-inch laserdisc. Sadly, these days, this project is remembered as an example of information lost to an old format that cannot be retrieved.
Get going and research your family or local area at the National Archive Web site at domesday Book