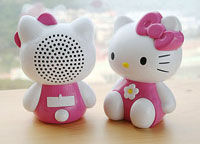 We can always rely on Brando to come up with quirky, bizarre and sometimes near-scary products, so we thought we'd take a look at their latest range of USB speakers.
As ever, they didn't disappoint.
Hello Kitty
First off is their new "Hello Kitty" USB speakers, which their website insists that we'll all be "fascinated" by.
Sporting a speaker wedged in the back of Kitty's over-sized head, the units can knock out a neighbour-untroubling 12w per channel.
There's not much chance of Kitty (resplendent in, "lovely pink clothes and ribbon") shaking her ass with much bass either, as the speakers can only muster a frequency response of 200Hz-20KHz.
The 12×7.9x7cm USB powered, Plug and Play speakers also come with volume up/down and mute controls in the supplied cable, and are compatible with Windows 98SE/ME/2000/XP, Mac OS 9.0.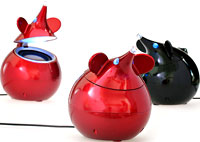 Mouse speakers
If you thought the Hello Kitty speakers were a little odd, then take a look at Brando's 'USB Little Mice Speakers.'
This bizarre circular construction has a speaker lurking under each mouse's head, which lifts up to reveal a blue LED light, which also illuminates the little rodent's eyes.
Output is listed at a mere 3W, with a control unit built into the cable providing mute and volume options.
Mouse speakers, $29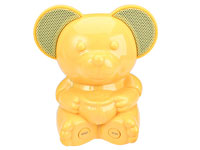 Where did you get those ears from?
Looking like the sort of thing that may glow an evil shade of red late at night and try and murder you in your bed, Brando's Bear Speaker and Radio comes in the shape of a scarily featureless yellow bear with speakers in its ears.
Powered by USB or 4 x AAA batteries, the bear has an FM radio and can be hooked up to MP3/CD players or your laptop (we're sure it'll look a treat next to your £2,000 Sony laptop).
They don't even bother mentioning the frequency response or power output, but if you're bothered by these kind of things, you're clearly already looking in the wrong place.
Bear Speaker + Radio, $15.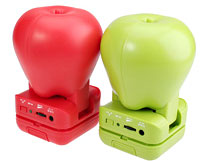 Apple sounds
Wrapping up this round-up of oddball speakers is Brando's Foldable Apple Speakers.
Designed to work with iPods and mobile players, this strange looking creation (available in lurid lime green or dazzling red) starts life looking like a mutant apple, before a fold out design reveals two 1W speakers in each half of the apple.
The lo-fi 200Hz-12KHz speakers can be powered from the USB port or by installing 4x AAA batteries in the base, with an on/off control, rotary volume control and DC input slapped on the top of the 114x71x55mm construction.
Brando's Foldable Apple Speakers, $16.
Never mind the Kitties
We've no doubt that all of these speakers are going to sound unutterably crap, but some may argue that's a small price to pay for looking so, err, individual.
We tend to agree, because we like Brando. They cheer us up.