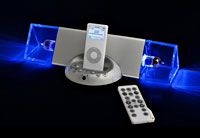 Prestige-hunting iPod owners keen to get one up on their mates need look no further than this rather remarkable iBlueTube valve amplifier, available from Japanese tech company, Thanko.
Hard core audiophiles with deep pockets have long appreciated the smooth sound created by old fashioned vacuum tubes, and we have to say that our heart always skips a beat whenever we find ourselves bathed in the warm glow of a set of valves.
The iBlueTube certainly has the looks to stand out, with its triangular form sporting a blue-glowing horizontal valve at each end, encased in Perspex.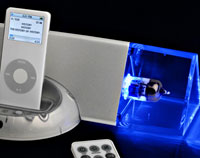 The iPod docks in the centre of the mains powered unit, with the power being supplied via a disappointimgly dull looking, hefty black external power block.
Bundled with the package is a selection of adapters for accommodating different iPods and a credit card sized remote control for controlling playback.
At the back of the unit there are twin speaker outputs, USB, AC in and TV and PC connectors with a curiously entitled 'Electricize' switch which we assume is just a standard power on/off control.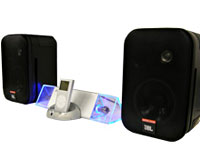 The 295×130×68mm valve amp pumps out a modest 2 x 12W output, with a frequency range of 20Hz – 30Khz (+0dB -3dB), and a claimed 80dB signal-to-noise ratio.
There's no speakers included in the 42,000 YEN (approx £200) price tag, but Thanko recommend hooking up a pair of JBL CONTROL 1X speakers.
Much as we love valve amps, we have to say that we're not convinced punters are going to be able to tell the difference when the source is a humble iPod playing back MP3 files – most of which will probably be recorded at a fairly low sampling rate.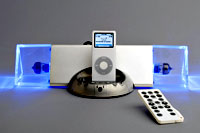 As many a beard stroking hi-fi hugger will tell you, you'll only get real hi-fi when you're using the best source components available, and we certainly wouldn't put an iPod up there with Linn Sondek turntables and Cyrus CD players.
If you're looking for real hi-fi, we'd couldn't recommend an iPod/iBlueTube as a cost effective option, but if you're just after sommething that looks as cool as feck and is sure to draw admiring sighs of admiration, the iBlueTube could be for you.
The iBlueTube should be available via Thanko's Website from early August.