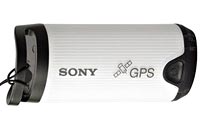 Sony Electronics have announced a groovy new GPS device that lets you add time and location information to pictures and movies captured with their digital still cameras or camcorders.
The GPS-CS1 is a small (9 cm / 3.5 in) and light (2 oz) cylindrical device that clips on to your belt loop, backpack or handbag while you're out and about.
Whether you're travelling to the Seven Wonders of the World, or just wondering where to buy your next house, our new GPS device can track your journey," enthused David Johns, product manager for digital camera accessories at Sony Electronics.
"Adding a geographic context to your digital images helps organize and make use of your photos in entirely new ways," he added, sagely.
How it works
The Sony keeps a rolling record of your GPS location as you wander about, and on your return you can upload the data to your PC via the supplied USB cable.
After you've then transferred your photos to the same computer, the supplied GPS Image Tracker software can do its stuff and synchronise your pics with the latitude, longitude and time readings from the GPS-CS1 device.
With each image now the proud possessor of a GPS location stamp, it's possible to work out exactly where every photo was taken (assuming that the camera and GPS clocks are in sync of course).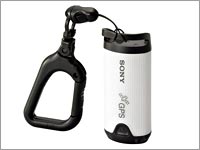 Armed with this info, users can fire up the new Picture Motion Browser software that comes with the latest Sony cameras and camcorders, and see their photo locations as push pins on an online mapping website, powered by Google Maps (we've no idea if this software will also be made available to non Sony users.)
The GPS-CS1 GPS device will be available next month for around $150 through the usual Sony outlets and at their website www.sonystyle.com/retail
Sony GPS-CS1 specifications
GPS device type 12 channel
Object image JPEG file (EXIF 2.1 or later)
Power • One AA battery (Alkaline or NiMH)
Recording time around 10 hours (Alkaline) or 14 hrs (NiMH)
Communication USB 2.0 Full-speed (at USB 1.1 speeds)
Dimensions 36 x 87 x 36 mm (1.4 x 3.4 x 1.4 in)
Weight (no battery) 55 g (1.9 oz)
Software GPS Image Tracker, Super Mapple Digital Ver.7 for Sony (both Windows only)