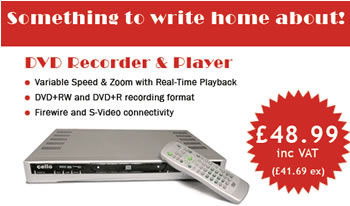 It's amazing to watch the price reduction of consumer goods. First we saw the free fall of the VHS machines, then DVD players which got to the ridiculous level of £19.99 – with 10 DVD's.
Now, of course, it's DVD recorders. Three years ago DVD recorders were costing around £400. Today we were stunned to see that DVD recorders have already got to under £50.
OK, we've never heard of the manufacturer, Cello, but what do you expect for that sort of money. We've also got no idea what the quality of it is like, or how long it will last. That's not the point. Here's something that will let you backup your video material to DVD – either from your video camera, or other Firewire equipped equipment; from S-Video and if you're really desperate, composite video, or TV.
Product Details
Features
Recording Format
– DVD+RW, DVD+R
Recording Time
– HQ-1 Hr.; SP-2 Hr.; LP-3 Hr. EP-4 Hr.
Playback Format
– DVD±RW, DVD±R, DVD-Video, VCD, CD, MP3, CD-R, CD-RW.
TV Tuner
– For PAL I 05 Modulator Output: CH.21 ~ CH.69
Variable Speed & Zoom with Real-Time Playback
IEEE1394 (DV Input) for Camcorder, S-Video, CVBS (AV Input)
Rear I/O: Input
– Video: Composite Video, S-Video, TV Tuner Audio: R/L Stereo Output: Video: Composite Video, S-Video, YUV / P-SCAN, Audio: 2-CH, Coaxial One Key Recording
IR Remote Control
– 53 keys, 3V infrared Panel keys: Power, Record, Source, CH up, CH down, Play, Stop, Open / Close
NTSC & PAL Playback
21-Pin Full Scart Socket with RGB Output x 1 15 21-Pin Scart Socket Input x 1
See the Cello R100B DVD Recorder for £48.99 at SavaStore