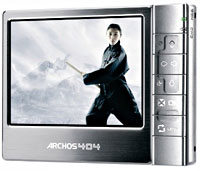 Details are still a little murky on this one, but some information on the upcoming range 404, 504, and 604 PMP devices are bubbling on up on t'internet.
The Archos 404 (already being dubbed the 'Page Not Found' player by some wags) looks set to a high-spec'd affair, sporting a 30 GB hard drive, a 3.5″ LCD display (320 x 240 px, 16 million colours) and MTP/UMS capabilities.
The thing looks like it will be able to play just about any multimedia file you throw at it too, with built in support for MP3, WMA, WAV, JPEG, BMP, PNG, MPEG4 ASP (Level 5), XviD, DivX 4, DivX 5 and WMV9 (up to a max resolution of 704x 480 @ 30fps, 720 X 576 @ 25fps).
Inside the highly pocketable player (100 X 77 X 15 mm, weight 190g) there's also a PDF viewer on board, a handy PDF viewer and a built in speaker.
Audio playback battery life is claimed at 15 hours, dropping to 4 hours with video.
Archos 504/604
We've no details on the Archos 504 yet, but we can tell you that the Archos 604 offers the same feature set as above, but adds a man-sized 4.3″ display (480 x 272 px, 16 million colours) screen in a slightly bigger case (130 x 78 x 16mm, 260g.)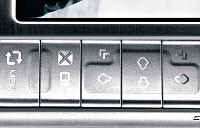 Accessories ahoy
Archos are rumoured to be producing an optional DVR station for all the new units, capable of recording video from external sources using MPEG4-SP (DivX 5.0) with ADPCM up to maximum 640 X 480 @ 30fps)
As with previous Archos models, there also looks to be a range of add-ons being made available later, including a line-in recorder, USB host module, and camera.
The players are expected to ship in October, although Archos have made no official announcement yet.