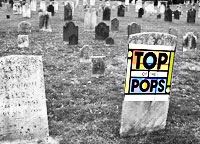 To a long, long fanfare that we began to fear would never end, Top of the Pops, the world's longest-running weekly music show, was finally killed off last night.
A classic example of how the Internet is changing consumer's habits, the once High Priest of Pop found its viewers tumbling as music fans flocked to the Web for the latest tunes, news and videos.
Despite being a major landmark on the UK music map for what seems like centuries, a new generation of impatient, tech-savvy and Web-connected listeners were hardly likely to warm to a format that only offered a distilled breakdown of chart acts once a week.
Why wait?
Way back when we were lads, music delivery on demand wasn't quite the slick operation it is now, with music starved teens reduced to hanging about in smelly phone boxes, dialling '160' and shoving in their 2p's to hear a crackly rendition of the song of the day (which you hoped wasn't the Wombles).
But kids today – spoilt rotten!
Thanks to the Internet, music lovers can now instantly gorge themselves on zillions of new tunes through social networking sites like MySpace, immerse themselves in vast oceans of songs on pay-per-download sites like iTunes or smuggle in tune booty from pirate sites like SoulSeek.
With this kind of personal music delivery, the days of families sitting around the gogglebox for a weekly fix of pre-programmed music entertainment are long gone, with music fans able to listen to music whenever they feel like it, via their computers, mobile phones, iPods and media players.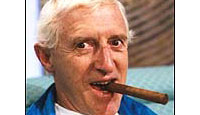 The figures back up the story too, with a recent survey revealing that people spend longer on the Internet than watching television, with the audience for Top of the Pops crashing to around a million viewers from its once-lofty peak of more than 15 million.
MTV
Meanwhile MTV are still battling on with the launch of a community-style site at MTV.co.uk followed by a new channel called Flux which will let viewers control what is aired on the station, and offer live chat with other users
Aimed at challenging the big-boy social networking sites like MySpace and Bebo, MTV are hoping their new product will appeal to the wired generation.
Angel Gambino, vice president of commercial strategy and digital media at MTV Networks UK & Ireland told Reuters, "If audiences are spending more time away from the TV it is important for us to make sure we have a really compelling product."
"It's critical to our success to make that transition from a broadcasting company to a multiplatform media company," she added.
Whether MTV's new interactive TV service will manage to make inroads into a music market increasingly driven by the Internet remains to be seen, but it's clear that traditional heavyweights like record labels and MTV are very unlikely to enjoy the domination enjoyed in the past.