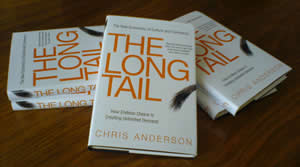 We've just published a review of The Long Tail, Chris Anderson's new book
The Long Tail is an important manual for the new economics of the Internet and digital culture. As well as demystifying the numbers it provides an essential guide to how to navigate a world where everything is available, all the time.
High praise and we think that it's a sufficiently important book that you should have your own copy.
We chatted to the lovely people at Random House and they've kindly furnished us with five copies.
All you need to do is run through our Readers survey, which should only take on 5-7 minutes of clicking.
We will of course also be so very grateful – which should give you a lovely glow inside.