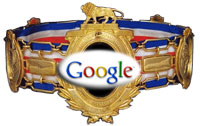 When it comes to web searches, Google still remains the world champ, with the latest figures showing that the search giant had notched up nearly half of all web searches last month.
Figures released from research firm Nielsen//NetRatings show that a massive 2.67 billion searches were carried out on Google during June 2006, which represents 49.4 per cent of all web searches carried out during the month.
These latest figures represent a mighty impressive year-on-year growth of 31 per cent for the Google gang.
Waddling some way behind in second place is Yahoo, who could only manage 1.24 billion searches, or 23 per cent of the total, although the company is enjoying a healthy 29 per cent year-on-year growth.
Looking further down the rankings, we can see MSN with 10.3 per cent and AOL with 6.9 per cent shares, with both companies registering around three per cent year-on-year growth.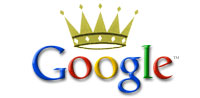 Although Ask.com and My Way managed to score year-on-year growth of 66 per cent and 51 per cent respectively, the search sites only account for a mere two per cent of all searches in June.
At the bottom of the pile were Netscape, Dogpile, iWon and EarthLink, all of whom experienced "negative annual growth," with just 0.5 per cent of all searches last month.
Zombie bars
Elsewhere, security firm SurfControl has warned users about a fake e-mail purporting to come from Google.
The Google-branded email includes a link to a well-dodgy site that looks like the real thing, offering a fake Google Toolbar Web site for download.
What users actually download is the Win32.Ranky.fw trojan that can turn users' machines into 'spam zombies,' allowing a remote intruder to route HTTP traffic through an infected PC.