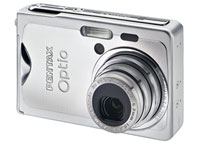 Pentax have announced their new ultra-compact Optio S7 camera which features a seven megapixel sensor with high sensitivity up to ISO 1600 (at 4 mp).Released almost a year after their popular Optio S6 model, the camera upgrade features Pentax's "Face Recognition AF & AE", a 2.5″ non-glare LCD monitor, DivX Movie Mode and support for the new SDHC card format.
Slippy slidey lens
The Optio S7 comes in a suitably fashionable thin and compact body with a 3X optical zoom which uses Pentax's proprietary original Sliding Lens System to keep the camera pocketable.
The lens offers a par-for-the-course 37.5 – 112.5 mm (35 mm equiv) 3x optical zoom range, with an aperture of F2.7 to 5.2.
There's also 4x digital zoom onboard, but we never recommend using built in digi-zooms (you're better off blowing up the images on your home PC).
Blur be gone
The camera features a Blur Reduction High ISO mode to help reduce camera shake and blur.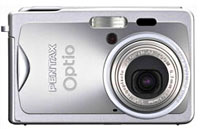 This ramps the ISO up to 1600, letting the Optio take advantage of faster shutter speeds in low light situations, but at the expense of image size, with the resolution slipping down to 4 MB (2304 x 1728 pixels).
Phizzog snapping
Employing the Face Tracker face-recognition technology from FotoNation, the new Face Recognition AF & AE mode claims to simplify portrait-taking by "automatically detecting the position of the subject's face and adjusting the focus and exposure based on the detected position."
The camera also sports an auto-tracking AF feature to provide continuously focus on marauding kids, mauling pets and passing UFOs.
Making movies
The Optio S7 can capture movies at 30 fps at sizes up to 640 x 480 pixels, with the DivX (MPEG-4 compliant) movie format offering longer recording times.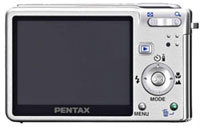 There's also a movie anti-shake feature, although this will give users a narrower field of view than during normal recording.
Auto modes
Naturally, the camera comes stuffed with a ton of auto picture/scene modes, covering subjects such as Flowers, Kids, Pet, Nifgt Scene and the all-important Food mode (has anyone ever used this, anywhere?!).
Storage
Accompanying the 23 MB of built-in memory, the Optio S7 unusually supports two removable storage media formats; the tried and trusted SD memory cards as well as the new SDHC memory cards.
The Optio S7 will be available in September for "under US$300."
Pentax Optio S7 specifications
Sensor , 1/2.5″ Type CCD, 7.0 million effective pixels
Image sizes 3072 x 2304, 2592 x 1944, 2304 x 1728, 2048 x 1536, 1600 x 1200, 640 x 480
Movie clips 640 x 480 @ 30 fps, 320 x 240 @ 30 fps, AVI (DivX compatible MPEG-4), With sound, movie anti-shake
File formats Still: JPEG (3 compression levels), Movie: AVI (DivX, MPEG-4), Sound: WAV
Lens 37.5 – 112.5 mm (35 mm equiv) 3x optical zoom, F2.7 – 5.2
Digital zoom Up to 4x
Focus TTL contrast detection autofocus ystem with AF spotbeam
AF area modes 5-point multi AF, Tracking AF switchable, Spot AF
AF assist lamp Yes
Focus distance Normal: 0.4 m (1.31ft) – infinity, Macro: 0.15 m – 0.5 m (0.49 ft – 1.64 ft), Pan focus: 1.1m (3.6 ft) to infinity at wide-angle setting/ 4.5m (15 ft) to infinity at telephoto setting
Metering Multi-segment, Center-weighted, Spot
ISO sensitivity Auto, ISO 64-400, ISO 400, ISO 800/1600 (Blur reduction mode; 4 mp)
Exposure compensation o +/- 2EV, 1/3 EV steps
Shutter speed 1/2000 – 4 secs
White balance Auto, Daylight, Tungsten, Fluorescen, Manual
Drive modes One shot, Self-timer (10 / 2 sec), Continuous, Remote control (3 / 0 sec)
Flash Built-in
Modes: Auto, on, off, soft flash, red-eye reduction
Range: Approx. 0.15 m – 5.1 m (0.49 ft -17 ft) at 5.8 mm, Sensitivity
Auto Approx. 0.4 m -2.7 m (1.31 ft -8.9 ft) at 17.4 mm, Sensitivity Auto
Viewfinder No
LCD monitor 2.5″ TFT LCD, 232,000 pixels
Connectivity USB 2.0 (Hi-Speed), AV out, DC in
Storage SD / SDHC card, 23 MB internal memory
Power Rechargeable D-LI8 lithium-ion battery
Weight 100 g (3.5 oz) (no battery or card), 120 g (4.2 oz) (loaded and ready)
Dimensions 86 x 54 x 20 mm (3.4 x 2.1 x 0.7 in)