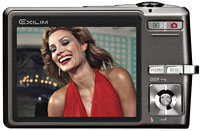 Looking to scoop up some late summer sales action is Casio's new Exilim Zoom EX-Z700 digital camera, available in silver and gunmetal.
This latest addition to the popular Exilim family serves up a beefy 7.2 megapixels-worth of resolution, with a large 153k LCD screen offering 1200cd/m2 brightness – claimed to be bright enough to let you see what's going on in the dazzling sunshine of Grimethorpe and Abu Dhabi.
Despite its pocket-sized dimensions (88.5 x 57 x 20.5 mm ), the battery life looks pretty healthy, with a claimed 460 still images on a single charge.
New modes
The auto-everything camera boasts two interesting new 'Best Shot' modes; the first being Auto Framing.
This claims to keep "dynamic subjects like playful, active children at the centre of the photograph" apparently "solving one of photography's most perplexing challenges" on the way. Phew. Thanks for that, Casio!
When the camera is set to Auto Framing, a thin, outlined frame appears on the LCD, centred on the moving subject of the photo, with the area within the frame being captured when the shutter is fully depressed.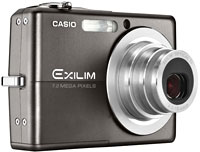 Cheese FX
The second, less useful, new mode is called Layout Shot, which lets users create collages made up of multiple shots of chums taken against the same scenic backdrop, or mix shots with different compositions to create a, err, "single artistic layout."
Users keen to get a bit Salvador Dali on their Casio have to select one of two predefined layout templates, blast out 2-3 photos and then let the camera create its masterpiece.
To be honest, the thing sounds absolutely dreadful to us, but there may be some folks out there who can't get enough of cheesy effects like this. But not us.
Rounding up the feature set of this thoroughly unremarkable camera is Casio's Anti Shake DSP, a 38-114mm (35mm equiv) 3x optical zoom
The Casio Exilim EX-Z700 will be shunting off the shelves in the UK and Eire in August 2006, with priocing to be announced.
Casio Exilim Zoom EX-Z700 specifications
Sensor: 7.20 million effective pixels
Image sizes: 3072 x 2304, 3072 x 2048 (3:2), 2560 x 1920, 2048 x 1536, 1600 x 1200, 640 x 480
Movie clips: 640 x 480 @ 30fps, 512 x 384 @ 30fps, 320 x 240 @ 30fps
File formats: JPEG (Exif v2.2), DCF 1.0, DPOF, AVI Motion JPEG
Lens: 38-114mm (35mm equiv), 3x optical zoom
Image stabilization: Anti Shake DSP
Digital zoom: up to 4x
Focus Contrast Type AF (selectable between spot, multi)
AF assist lamp: Yes
Focus distance: Normal: 40cm-infinity, Macro: 15-50cm, Manual: 15cm-infinity, Metering Multi-pattern, Centre-weighted, Spot
ISO sensitivity: Auto, ISO 50, ISO 100, ISO 200, ISO 400
Exposure compensation -/+2EV in 1/3 EV steps
Shutter speed 1/2 to 1/2000 sec
Night Scene: 4 to 1/2000 sec
Aperture: F2.7 / 4.3 (auto switching)
Modes: Still, Still with audio (max 30secs), Continuous, BEST SHOT, Macro, Movie with audio, Voice recording
Scene modes: BEST SHOT
White balance: Auto, Fixed (6 modes), Manual switching
Self timer : 2 or 10 sec. Triple Self-timer
Continuous shooting: approx 1fps, High-speed continuous shutter and Rapid Flash approx 3fps
Flash: Auto, On, Off, Soft Flash, Red-eye reduction
Range: 0.15-3.4m (w) 0.4-1.8m (t)
Viewfinder No
LCD monitor 2.7-inch TFT colour, 153,600 pixels
Connectivity USB 2.0
Storage SDHC / MMC / SD card compatible, 8.3 MB internal memory
Power Lithium-ion NP-40 rechargeable battery, AC Adapter
Weight (no batt) 112 g
Dimensions 88.5 x 57 x 20.5 mm