The Murdoch empire continues to buy to part of the online world, as BSkyB announce the full purchase of Web publishing and design company, mykindaplace, a company that they'd invested in 2000 when they previously dabbled in buying bits of the Internet.
Founded in 1999, mykindaplace has a couple of publications aimed at teenagers, one for girls, and another boys, monkeyslum, that launched in September 2004. At the other extreme end of the age range, they also published livingit in January 2006 aimed at those 45+.
With the purchase of mykindaplace, Sky will also gain Burst Interactive, which currently handles the skyone.co.uk site for Sky.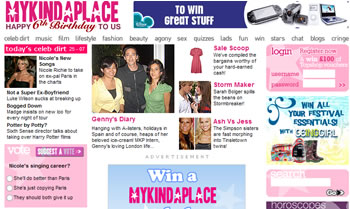 James Baker, Managing Director of Sky Networked Media, who will have the mykindaplace teams under his power, invented a new term to us "super-serve," when he said "Working even more closely with mykindaplace will allow us to accelerate the expansion of our web portfolio. We intend to super-serve audiences in key content genres and target new users with a suite of content-rich sites thatdeepen customer relationships and drive new revenue."
Sky who already owned 49% of mykindaplace bought Eurovestech shareholding in Mykindaplace for £0.5 million cash back on 30 June. We understand that Eurovestech owned 5.6% which they bought into at the same time as Sky back in April 2000. At the time of going to press, it isn't clear who owned the remaining shares, although it is understood that Freeserve invested in the company in 2000 as well.