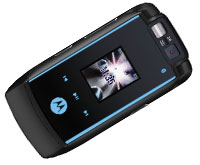 Somewhat earlier than expected, Motorola has officially announced the follow up to their wildly successful V3x phone, the new MotoRAZR MAXX.
Wearers of tight spandex pants will appreciate the 0.2-inches that has been carefully shaved off the V3x's dimensions, giving the MAXX a super-slimmer width of just 0.6-inches.
Lurking inside the sleek black flip handset is a veritable GCHQ of connectivity, with the phone now offering nippy EDGE and HSDPA connectivity, GSM 900/1800/1900MHz, as well as the speedy UMTS (2100MHz).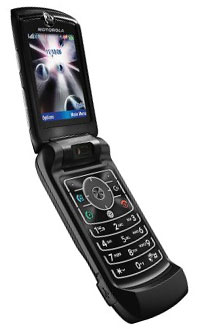 Motorola claim that the phone can reach download speeds as fast as 3.6MB per second using the High-Speed Downlink Packet Access (HSDPA) handsets.
As ever, the phone looks slicker than a Torey Canyon coastline, with a large 2.2-inch QVGA display, flat metal keys and external touch sensitive music controls backlit with a lovely blue glow that screams, "I am a hip fecker" to any passers by.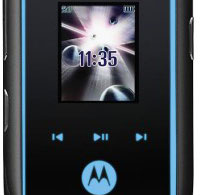 Moto has wedged in VGA and 2.0 megapixel cameras for two-way video calling, with Bluetooth 2.0+ Enhanced Data Rate, 50MB of internal storage and a microSD slot (up to 2GB) for storing tunes, videos and data.
If you're already salivating at the sight of all this lovely technology, you're going to have to keep your hanky to hand for a while longer as Motorola have yet to give specific release/pricing/market details.