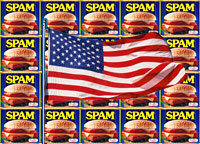 Once again, America remains firmly rooted to the top of the league of spam-relaying nations, accounting for a hefty 23.2 per cent of the world's unsolicited email during the second quarter of 2006
Lurking close behind with a 20 per cent contribution to the global spam total is China (inc. Hong Kong), with South Korea in third with 7.5 per cent.
However, the figures from IT security firm Sophos reveal that both China and South Korea have managed to reduce their spam output since the first quarter of the year, unlike the US which has failed to reduce its spam for the first time in over two years.
Botnets of zombies. Aaaieee!
Sophos explained that the vast majority of the spam tracked by the company was relayed by botnets of 'zombie' computers hijacked by Trojan horses, worms and viruses, controlled by devilish hackers.
Graham Cluley, senior technology consultant at Sophos commented that the introduction of the 2004 US Can-Spam legislation in 2004 had resulted in a regular quarter-on-quarter drop in the proportion of US-based spam, Until now, of course.
"Given the number of arrests, and the huge fines dished out to guilty spammers, it is hard to criticise the US for failing to take action, said Cluley.
"Perhaps the reality is that the statistics cannot be reduced any further unless US home users take action to secure their computers and put a halt to the zombie PC problem," he added.
Eurospam
When it comes to spam-per-continent, Sophos found Asia the busiest around, but noted that spam relaying in Europe continues to grow.
Europe collectively accounted for 25 per cent of the world's spam in the first quarter of 2006, a figure that has now increased to 27.1 per cent, overtaking North America in the spam spreading league.
Ruski controllers
There may be no sign of Russia in the "dirty dozen" of steeeenkin' spam-relaying countries, but Sophos reckons there's still 'nuff bad boys to be found, claiming that Russian spammers may be controlling "vast networks" of zombie PCs.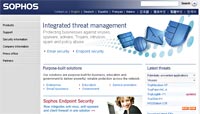 Embedded spam
Spams containing embedded images have seen a huge rise this year, leaping from 18.2 per cent in January to 35.9 per cent in June.
Using images instead of plain text lets spammers bypass some anti-spam filters that weed out spam by analysing the textual spam content.
Pump and dump
Sophos reckons that 15 per cent of all spam emails are now 'pump-and-dump' scams, up from just 0.8 per cent in January 2005.
We've suffered a ton of these scams which are designed to boost the value of a company's stock in order for spammers to make a quick profit
"It is worrying to see so many pump-and-dump emails, often with embedded graphics, being spammed out to the general public," commented Cluley.
"The people that act on these emails are not skilled investors, and do not realise that purchasing the shares is likely to reap no reward, benefiting only the spammers while creating a financial rollercoaster for the organisation in question," he added.
Although we sympathise with his words, you'd have to be madder than Jock McFruitloop wearing jelly trousers to even consider buying any stocks recommended by these emails.
The Bad Boy tables
Spam relaying countries, April to June 2006:
1. United States 23.2%
2. China (inc. Hong Kong) 20.0%
3. S Korea 7.5%
4. France 5.2%
5. Spain 4.8%
6. Poland 3.6%
7. Brazil 3.1%
8. Italy 3.0% new entry
9. Germany 2.5%
10. United Kingdom 1.8%
11. Taiwan 1.7%
12. Japan 1.6%
Others 22.0%
Spam relaying continents, April to June 2006:
1. Asia 40.2%
2. Europe 27.1%
3. North America 25.7%
4. South America 5.5%
5= Australasia 0.7%
5= Africa 0.7%
Others 0.1%