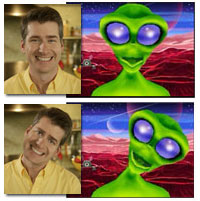 Logitech has dished out some details on their new QuickCam Ultra Vision Webcam, which they claim offers, "a true-to-life video calling experience by delivering twice the image clarity as that offered by typical Webcams."
While most Webcams turn into grainy blobs at low light settings, Logitech reckon that their combination of high quality materials and a bright f-stop setting of 1.6 will be a massive improvement on current models.
The software that powers the QuickCam Ultra Vision goes under the snappy name of 'RightLight 2 Technology', and it's claimed to be able to "intelligently adapt" the camera's video settings based on the ambient lighting.
The Webcam also features a premium 1.3 megapixel sensor with a high performance lens made up of a mix of glass and plastic optics, with the camera supporting the High-Definition (HD) video format.
Unfortunately, Logitech haven't released any proper photos of the Webcam or posted up any examples of the image quality, so I guess we'll have to wait to see if the it's as good as they say.
Sound and video effects
Also bundled with the Webcam is Logitech RightSound Technology, which combines a microphone with acoustic echo-cancellation software, making it easier to host video calls without having to wear a chumpster, 'call centre'-style headset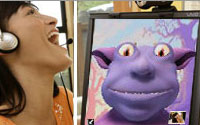 We're sure children under 10 years old (and some cray-zee tie wearing office pranksters) will get more pleasure than we did out of using the included 'Video Effects' software.
This lets you personalise your on-screen appearance using 'hilarious' avatars and 'thigh-slapping' face accessories, so you can have, for example, an alien head that mimics your expressions, or stick on glasses, a moustache, a hat or a crown to your image.
The QuickCam Ultra Vision Webcam should be available in the U.S and Europe from August, and comes with suggested retail price of $130 in the US (~£71, ~€104).