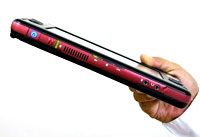 Korean technology company Daewoo Lucoms, have unveiled their new ultra mobile PC Solo M1.
Coming hot on the heels of Samsung Q1, the 'Solo M1' UMPC handheld comes in tablet form, with a natty two-tone red and blakc finish and a 7-inch wide WVGA TFT screen.
Unless you're in the habit of walking into the office donning clown's trousers, you're never going to be able to fit this thing in your pocket as it appears to be quite a hefty beast, with near-laptop dimensions at 25.5mm(W)x 114mm(D) x 25mm(H).
The 830g UMPC is powered by an Intel Celeron 900 Mhz CPU, running on MS Windows XP Tablet Edition and ships with 512MB of DDR2 400 memory (max 1GB) and a built in 30GB hard drive.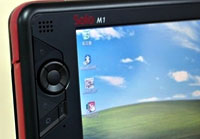 The Solo M1 features a variety of multimedia features, including video and music playback via Windows Media player, a DMB tuner, a 1.3 MP webcam for video conferencing and a 4-in-1 (MMC/ SDIO/ MS/ MS Pro) memory card reader.
Connectivity options include USB 2.0, Bluetooth V1.1 & V1.2 and Wi-Fi 802.11 B & G, with the unit's cradle station offering S-Video out.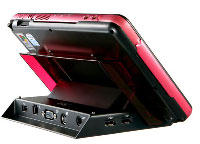 There's also a range of optional accessories available, including a leather case, mini keyboard and external optical drive.
We've no idea yet about the crucial matter of battery life, but we can tell you that the Daewoo Lucoms Solo M1 UMPC is available in Korea for 998,000 KRW (~£570, ~$1,040) which seems pretty competitive.
But it's still a chunky looking fella.