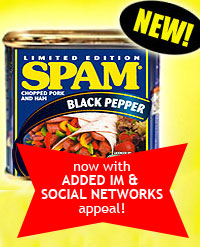 Steeenkin' spammers are increasingly turning their evil gaze in the direction of SMS, Web-based instant messaging, bloggers and community sites like MySpace.com, according to MessageLabs.
The mail services company said that spammers are looking to bypass e-mail-based antispam measures by targeting spam on "age, location and other characteristics."
Mark Sunner, chief technical officer at MessageLabs, warned that social-networking sites offer spammers a "new level of convergence and capability to profile people."
The company also noted an increase in IM spam ("spim"), with spammers sending just a hyperlink, which can direct users lead to a malicious site, or a phishing site.
"We expect more cross-fertilisation of (malicious software) as Yahoo, MSN and Google become one big blob, from an IM standpoint," Sunner added.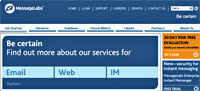 MessageLabs reported that spam mail soared a hefty 6.9% in June to make up a massive 64.8% of all global emails sent that month.
Geographically, Israel continues to be the world's number one spam target, with spam making up a colossal 75.9% of the country's email traffic, up 11.9% since May.
Ireland was hit by the greatest monthly rise, with spam increasing by 14.1% to make up a spam rate of 59.4%, while Spain saw the sharpest fall, with lucky Spaniards only suffering spam at 24.8% of all emails.
Jargon watch
Splog: Blogging spam
Spim: Instant Messaging spam