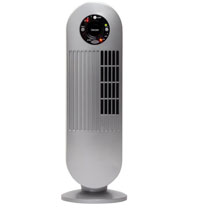 Seeing as our office fan decided to go on the blink just as a sticky, sweltering heatwave sent temperatures soaring above 32C, we needed a new fan. Fast.
Being techie types, we decided that a conventional fan was a bit too old-school for us, so we invested in a Prem-i-Air PMTF-07 35W Mini Fan, which comes complete with a built in Ioniser.
Standing about 44cm (17.5″ tall) and around 14cm (5.5″) wide, the Prem-i-Air is the perfect size for slapping on your desk and getting a boatrace-bound breeze blasting your way.
Control layout
At the top of the mini tower sits a circular control panel, offering an on/off switch, fan speed control (three settings; low, med or hi), oscillating on/off control, timer and Ioniser activation switch.
With an obedient bleep, the fan starts up promptly after hitting the main on/off control, and we found the 'low' fan setting to provide a pleasant breeze with the fan situated a couple of feet away.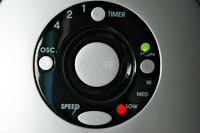 At full blast, the fan knocks out a fair bit of air (1.5m/sec, to be precise) although we're not looking at office blasting wind tunnel effect here – this fan is definitely only for personal/small office use.
When the oscillating control is turned on, the fan slowly spins around 180 degrees on its circular base, but started to shuffle about a bit when the fan was at full blast.
Unfortunately, you can't restrict the range of the movement, so some may find it a little too wide for their tastes.
The timer's quite straightforward; keep pressing the button and a red light will appear next to the 1 hour, 2 hour or 4 hour markings, with the fan turning off after that time.
Ionisation time
Of course, the button that intrigued us most was the one marked 'ioniser' and we bashed the 'on' button with high expectations.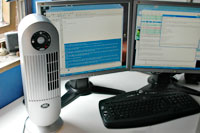 Ionisers work by sending out negative ions (which are found naturally by the sea and in the mountains, and after thunderstorms) and this should strip the air of particles and micro-organisms, pollen, dust, pollutants and airborne germs.
Reading the guff around ionisers, they're supposed to do all sorts of wonderful things for your health, like make the air feel fresher and more invigorating, disperse unpleasant whiffs, help with hayfever, asthma, bronchitis and migraine and get rid of the headaches and tiredness caused by the 'positive ions' coming from computer screens and air conditioning.
Sadly, the ioniser didn't promise to remove headaches and tiredness caused by a night quaffing yards of ale, but our preliminary tests seemed to result in the air feeling a bit 'fresher' around the office
The verdict
Although we're still checking out the benefits of this ionisation malarkey, we liked the Prem-i-Air.
It's well built, doesn't take a ton of desk space and offers enough fan power to make working in an office in a heatwave a bit more bearable.
The price seems reasonable too (£25 from Amazon), although with a current sales rank of just 13 on the Amazon site, we'd recommend you get one quick before stocks run out!
Features: 75%
Ease of Use: 80%
Value for money: 85%
Overall: 80%
Specs:
Depth 5.91 in.
Height 17.52in.
Weight 4.85 lb.
35 Watt
Buy it on Amazon UK