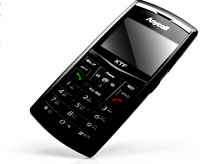 Thinner than a very thin thing on a crash diet, KTF's new ultra-slim SPH-V9900 looks set to grab the crown as the World's Thinnest Mobile.
Measuring a pencil-thin 6.9mm wide, this really is a tiny puppy and it looks pretty desirable – and practical too.
Unlike the lipstick-sized KTF EV-K130 phone we featured earlier this week, this phone actually looks like it can be used by people with fingers bigger than chop sticks.
Styled like a conventional phone from the front, the V9900 measures up at 113 x 50 x 6.9mm and weighs just 63g.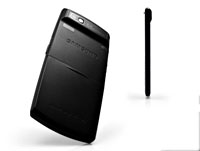 The front of the phone is dominated by a sizeable 1.9″ 262k TFT LCD display, with a familiar keypad design below.
Flipping the camera over, there's a 2.0 megapixel camera module at the top, with a teensy lens lurking in a raised piece of casing.
There's also an MP3 player wedged into its super lithe frame, with 128MB of onboard memory for storing tunes and photos.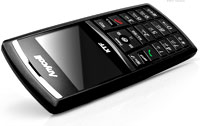 We're still battling with the Korean translation, but we don't think there's any kind of memory expansion on board, which is a bit of a shame (but we guess you can't have it all with a phone this slim!).
We've no idea about pricing on European availability yet, but this phone looks like an absolute winner to our eyes – so long as you don't sit on the thing, of course.