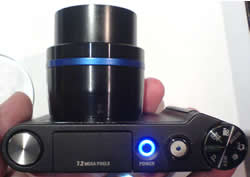 Samsung has released the details of their new digital camera range, Samsung NV – New Vision.
There are three cameras in the initial range, the NV3, NV7 OPS and NV10 – boiled down from 500 concept models explored over the two year of development cycle. Each camera is pitched at a different audience and has its own strength.
We've had our hands on all of them and can confirm that they've got a great feel.
They're all pixel-loaded with the NV3 & NV7 having 7.2Mpx and the NV10 being the 10.1Mpx heavyweight.
Instantly notable is how thin each of the camera bodies are, with the skinniest being the NV3 a svelte 17.5mm.
In an attempt to address the frustration of digital camera needing increasingly complex and deep menuing, Samsung have developed the Smart Touch interface, fitted to the NV7 and NV10. With seven touch sensitive buttons along the bottom and six up the side of the 2.5″ back screens, menu choices are simply made by running your finger along the buttons until the required option is located. Think selection through cross-hairs.
Despite the NV10 being the pixel-brute, the NV7 is really the Daddy of the range carrying all of the nifty tricks including a 7x optical zoom, OPS (Optical Picture Stabilisation) and ASR (Advanced Share Reduction). OPS detects the movement of the camera and shifts the CCD to compensate for it, leading to a more-still photo. The NV7 also has a rather huge lens on it, ideal for taking picture in low light.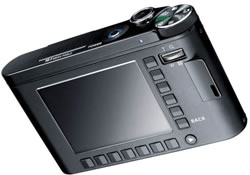 The NV3 is the one that we think will get you most excited dear reader. It's not only a camera, but an mp3 player and PMP, so it can play films too. It's equipped with stereo speakers, so you can share you tunes too.
Samsung have pretty ambition plans for the progression of their digital cameras. They currently have 9% of the market and if they stay on course, will have 10% by the end of this year.
Their plans are 13% market share (MS to those in the know) by 2007; 16% by 2008 and 20% by 2009. If they reach this, they will be the top leader in the market.
Given how they've come from more-or-less nowhere to such a strong position in mobile phones, it's highly believable that they can achieve it.
The cameras should be available by September at the following suggested retail prices, NV7 OPS – £299, NV10 – £279 and NV3 – £229