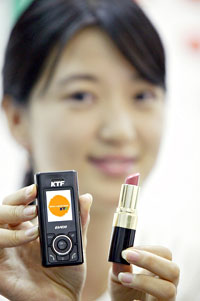 Korean technology company KTF Technologies have unveiled a teensy-weensy phone, which is "smaller then a lipstick."
Seemingly designed for bijou ladies (and possibly) ladyboys with pixie-sized fingers, the 8.2cm x by 3.7cm micro handset is a handbag-untroubling 1.69 cm thick and weighs just 73.5 grams.
Despite its diminutive dimensions, the micro-sized phone manages to pack in a fair amount of features, with a 1.3-megapixel camera and MP3 player onboard.
Tune-tweakers can entertain themselves with the music player, which offers user selectable "EVER Remix functions" and a 3D equalizer.
There's also a built-in electronic dictionary, which contains 330,000 words, a fairly substantial 165 MB internal memory (big enough to squeeze in around 50 MP3 files) and PictBridge support.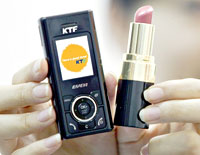 KTF Technologies, are the handset-making subsidiary of Korea's second biggest wireless carrier, KTF, and the company has said that it intends to market the mini-sized slider, EV-K130 from this week, priced at around 370,000 won (approx £210, €305).
In March, KTF grabbed the 'world's thinnest phone' accolade, releasing the 7.9-millimeter-thick EV-K100, which proved a big hit in the domestic market.
They didn't manage to hang on to their record for long though, with local rivals Samsung Electronics knocking out a 6.9mm thick phone just two months later.
According to KTF spokesperson Lee Min-ji, the company are now hoping that their new, lipstick sized gandset will attract "design-aware clients en masse on the back of its sleek appearance."