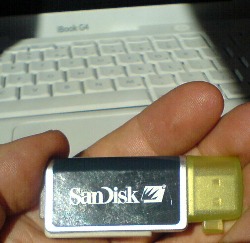 SanDisk makes tons of memory related products but how many of you knew that they made memory adaptors and converts? Makes sense doesn't it?
One I've found that I can't live without, is the SanDisk MobileMate MS+, Sony MemoryStick to USB converter.
I've been using a 2Gb Sony MemoryStick PRO Duo in my [link to my review]Sony Ericsson K750i for about nine months now.
When I picked up the 2Gb MS in Tokyo last year, I was feeling very pleased with myself. I'd fallen for the k750i, seeing it as the first true multi-media mobile phone, so figured that I'd be shooting tons of photos, videos and recording endless audio recordings. For that I needed some pretty hefty storage, so the not-available outside Japan 2Gb appeared to be the perfect solution.
It comes as no surprise to find out that as soon as it was fitted I was dashing around shooting my little sox off, gather interesting images from the strange world that Tokyo is to inexperienced Western eyes.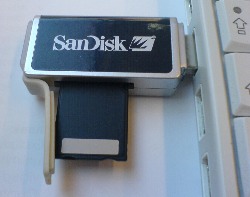 Setting about to download them to my iBook via my then current MS/USB adaptor was most perturbing experience. It refused to acknowledge that my beauties were there at all. Argh, panic! Logic prevailed and I reached for a PC laptop. While the PC saw the images, when I tried to copy them off the machine would get slower and slower to the point where it finally fell over.
Vaguely recalling issues with partition sizes over 2Gb, I fell into a cold sweat, considering that perhaps it couldn't cope with the 2Gb MS, rendering my not-inexpensive purchase valueless.
SanDisk MobileMate MS+ to the rescue
I'd been fortunate enough to lay my hands on a number of MS/USB converters, but none of them were up to the job of copying information from the 2Gb MS.
Salvation was found when I discovered the SanDisk MobileMate MS+. It read my 2Gb without presenting any form of complaint and it did it with full speed. It works perfectly both on Mac and PC and hasn't thrown up any problems in the six months I've been using it.
To use it, simply clip off the snug-fitting, light green cap that protects the USB port from dust; lift the flexible rubber cover that does the same dust-protecting job for the MS slot. Pop the MS into it and plug it into your computer. Err … that's it.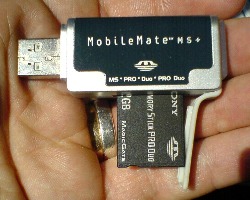 It works with the many, varied versions of MemoryStick format, including plain old MemoryStick; MemoryStick Duo; MemoryStick PRO and MemoryStick PRO Duo.
Summary
This compact beauty has literally everything you could want and I can't think of a single thing I'd like to do to change it. It's the right size, and smaller and it'd be in danger of getting lost.
It's a permanent feature in my tech grab-back whenever I leave the house and will continue to be until the day I stop using MemorySticks, or get a laptop with a MS port.
We've never done this before, but we're going to give this 1% short of a perfect mark. It would be 100%, but nothing is perfect.
Score: 99%
Buy it at Amazon US