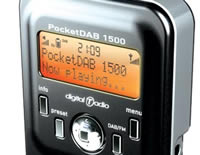 We're big fans of Pure Digital and their seemingly endless mission to push the features and functions of DAB radios. Their latest move is to launch a new portable DAB radio.
Launching DAB on the world with the attention-grabbing BUG radio designed by cardigan-wearing, ex-shoe designer, Wayne Hemingway (which they recently updated), they've followed it up with numerous diverse models.
True to their innovating inclinations, Pure has been selling their PocketDAB 1000 radio successfully for some time, but not content to rest on their laurels, have taken the chance to improve on their success by launching a new, improved (as they say in the washing powder ads) version, the PocketDAB 1500 – and at a lower price than its predecessor.
They added FM with RDS, textSCAN, a striking black anodised aluminum case and a ChargePAK rechargeable battery pack. Not content with adding features, they've managed to reduce the weight to the little fellow to 123g, making it their lightest so far.
To ensure this beauty has enough power for 24 hours of constant listening, the set is recharged by plugging it into the mains electricity to juice up the ChargePAK battery.
You could well be asking what the hell textSCAN is? Let us enlighten you. One of the features of DAB is the ability of the broadcaster to have text scroll on the displays of the receiver. textSCAN give the listener control over this text, so it's not lost as it scrolls off the screen.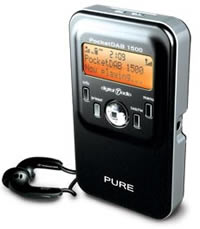 Recognising that what they're selling is audio quality, Pure have done a deal with Sennheiser to have Sennheiser's MX300 headphones included in the package.
Pure clearly think about the usability of their radios, which shows, giving features like automatically remembering the user's ten most listened to stations in a favourites list.
DAB while on the move was, for a long time, a problem as the required signal strength is higher than analogue. Public perception of digital radio reception, or digitally reception generally is that it's better quality. This can be true, but only when reception is sufficiently strong. Unlike analog reception, which will gently fade in and out, without the required minimum reception levels, digital can be a highly disturbing experience, with unpleasant, hard-edged choppiness hitting your ears.
This combined with the power-hungry design of the initial chipsets is the reason why we didn't see truly portable DAB radio coming to market at the same time as the early mains-powered models.
The PocketDAB 1500 package can now be had in the shops for a RRP of £89.99, actually giving a price reduction on their previous model.